Posted by Ben
on 04.27.13
I don't know if you all read An und für sich, but Kotsko's been on a, as they say, tear lately.
Posted by Stanley
on 04.27.13
Man, I hate this crap:
"It's just grown like crazy," said Heidi Martin, who recently started a party princess company in Stafford and now books a stable of 25 Cinderellas, Belles and Pocahontases for gatherings all around the region.
And:
"I have parents from D.C. all the time who call and say, 'We don't know where this came from, Disney is getting to her somehow,' " said Russell. "They say, 'We don't even play with princesses but all she wants to do is put on a dress and dance around the house, and now she really, really wants Cinderella at her birthday party.' "
And, amusingly:
"That is just beyond the level I feel like feeding this obsession," said Eppolito, who was relieved when her girls recently expressed interest in having a dolphin-themed party for their next birthday.
I don't think I ever had a "themed" birthday party. We did take a group of kids to the laser tag place once. The laser guns were broken, so we played...tag. Super lame.
Posted by Heebie-Geebie
on 04.27.13
The only one on this list that I can speak authoritatively to is this:
A Taiwanese friend pointed out to me that where she was studying in northern Florida, nobody ever said "thank you" or "you're welcome" ever. Instead, they said "'preciate it," and the answer was "no problem."
There's some truth to this? I've observed that I find it almost impossible to say "you're welcome" and always opt for "no problem". I also find it very natural to say " 'preciate it" although equally so to say "thank you".
I've definitely never heard this observed as a phenomenon before, and wouldn't have any reason to know that it's particular to North Florida.
Posted by Heebie-Geebie
on 04.26.13
Lw writes: The XML representation of a basic spreadsheet should be no big deal, but good luck finding stable libraries that will work with both Excel 2010 and older versions. Why should older-version support matter, one may think. Well, excel is an easy-to use tool that's widely used by scientists, possibly also others who generate data with a useful lifetime that exceeds a few years. In science, getting at data often means getting at the supplementary material that scientists sent to the journal, that is, the spreadsheets made with old software. Microsoft's market cap is almost four times that of Boeing.
Posted by Stanley
on 04.25.13
Have we discussed previously the practice of clapping for a professor at the end of the last class of the semester? Clapping is definitely de rigueur at my current institution, and I had just assumed it was done everywhere. But a fellow (and soon-to-graduate) student mentioned today that she's never really gotten used to the clapping thing, and it certainly wasn't done at her undergrad university.
How does/did it work at your school, 'foggedtariat?
Posted by Heebie-Geebie
on 04.25.13
Commenters emailed me various links:
1. Knecht says: Is this the next Wikipedia? Let's hope so. It's narrower in scope than Wikipedia, and not nearly as "bottom up", but when you consider how many little podunk museums, archives and historical societies there are out there, I could see it amounting to something. And they got it going for a paltry $5 million.
2. Chris Y says: Seems to me that this is a game the 'tariat might enjoy playing (with suitable credit to the originator of course).
Sending me links is the online equivalent of bringing over a frozen casserole to stick in the freezer. Thanks, all!
Posted by LizardBreath
on 04.24.13
Clew sends in a column from the WSJ suggesting that tontines be revived as a retirement income planning product.
For those who haven't read the same mystery novels I've read, a tontine is an arrangement where a group of people each put in some amount of investment capital, and the fund is held jointly by the group with right of survivorship. So you start out getting the income generated only by your initial investment, but as your co-owners die off, your share of the total income goes up, until the last survivor dies old and rich. The words "as your co-owners die off" and "last survivor" indicate why I've only heard of these in mystery novels.
I dunno, though, it could be a workable idea if you could keep people from murdering each other -- it does seem like a solution to the problem of unexpectedly outliving your savings. That is, if you have regular retirement savings, geared toward your expected lifespan, and a tontine, the the tontine will get valuable only after you've lived unexpectedly long, which is when you need the money. But really, I'd just like Social Security to be enough to live on, which would save a whole lot of trouble for everyone.
Posted by LizardBreath
on 04.23.13
I have a simple question for people. This is a discussion I don't remember ever having before.
What painters' paintings do you enjoy looking at?
I have to say I like highly figurative paintings where something interesting is going on. This includes various painters' whose Wikipedia entries state that the artistic community of, say, 1860, viewed them to be staid and old-fashioned sell-outs and stick-in-the-muds. From Ingres, to Alma-Tadema, to Gérôme, to George Bellows. Does this make me basically a Norman Rockwell fan?
What visual art do people like?
LB: One thing that I'm reliably entranced by is abstractions where I can walk it back to a representational source -- there's a very familiar Mondrian that looks like a bunch of dashes, some vertical, some horizontal, scattered over a rough circle. At an exhibition, I saw it displayed with a realistic painting of a stone church, and a series of intermediate paintings that broke the realistic church further and further down until the dashes were all that was left. That sort of thing I could look at all day.

Posted by Stanley
on 04.23.13
Does the blog need to be fed? My only real news is that I just signed a lease for next year, and I'll be living in a converted carriage house. Basically, one big room with a kitchen along one wall, plus a little bathroom.
The pros: it's closer to school, so I can walk/bike more feasibly. I've never lived alone, and I'm looking forward to seeing what that's like. The limited space is appealing, in that it's less to keep tidy, and I liked that about living in a single room (with a roommate directly next door in his own room) for three years during college.
The cons: it's pretty tiny, and I have a lot of crap. It's quite close to Undergrad Party Land, which could get annoying fast. Also, as a general point, moving sucks.
I have no idea why this information would be of interest to the 'tariat. So do with it what you may.
Posted by Heebie-Geebie
on 04.22.13
Introducing Ace Geebie, born last night.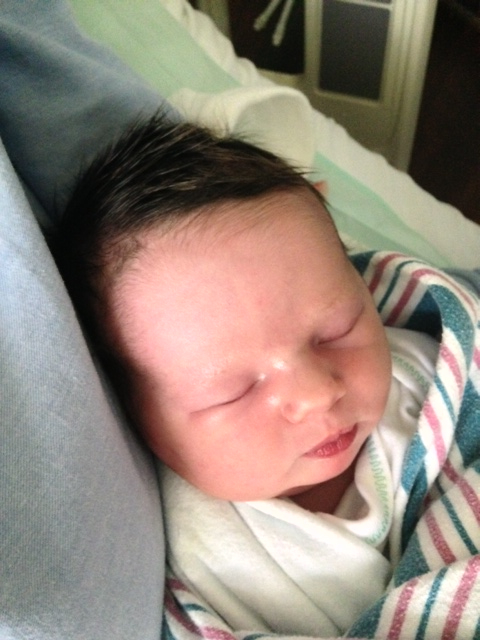 Hawaii: "She's so cute. Her hair feels like fur."
Hokey Pokey: "The baby is out of your uterus!"

Posted by Apostropher
on 04.21.13
A friend of mine from high school has a nine-year-old son who was diagnosed with brain cancer a couple of summers ago and is currently having a really, really rough go of chemotherapy. He's collecting postcards from well-wishers and tracking their points of origin on a Google map. It would mean a lot to me (but much, much more to Charlie and his family) if you guys could help broaden his map. The address is below the fold there. Thanks, y'all.
Charlie Andrews
PO Box 351
Concord, NC 28025