Posted by Heebie-Geebie
on 04.08.22
How about a Ketanji Jackson thread?
Posted by Heebie-Geebie
on 04.08.22
I saw this Reddit thread on whether or not the thrift store dressing rooms are still closed due to Covid, which is something I've observed locally. Obviously - despite the signs at my Goodwill saying otherwise - at this point, it's not due to Covid; it's due to the store wanting to keep the dressing rooms closed forever. In the comments, a bunch of people who have worked retail said, "It's because of serial shitters. Every store has them. Even when there are bathrooms, and also explosively in the bathrooms." That is so incredibly gross. But also, it's collateral damage of our massive failure as a society to help mentally ill people.
(Also pre-Covid, there'd been a big push in the schools to have kids sort their lunch waste by composting, recyclable, and re-usable. That also hasn't come back. I get it that it's the time and effort, but it's still a shame.)
Other than some tension around whether or not zoom erodes collaboration and human connection in meetings, things have kind of gone back to exactly how they were in February of 2020.
Posted by Heebie-Geebie
on 04.07.22
Lw writes: Great interview with Masha Gessen
But in a totalitarian society, it's not like people have to hide their opinions. It's that they don't have the possibility to form an opinion. Not just because of disinformation, although that matters, but also because it's a matter of survival to be able to mirror back to the state what the state wants you to say. For most people, there isn't even the possibility of taking the time or mental energy required to form opinions. That's not an option because having an opinion is too dangerous.
Heebie's take: That is really smart. There are a lot of pieces that I feel like I need to turn over further in my head.
Posted by Heebie-Geebie
on 04.06.22
Minivet writes: Apparently Sri Lanka's government tried to make a nationwide shift to organic farming by banning synthetic fertilizers and pesticides wholesale - and it backfired spectacularly. Major crop failures, food costs way up, reversal of policy, $200m compensation to farmers promised, plus another $149m new rice subsidies.
A decision likely originally made at the partial behest of this charismatic figure from India who gets a fair amount of Western press and others in her broad anti-Green-Revolution movement.
I don't want to make this a "stupid idealists' plans always backfire" crypto-reactionary meme, but this does seem like the kind of thing you risk when you make your goals more about purity than people's well-being.
But also, most of the sources I found for this are places like Foreign Policy and NY Times, plus ag outlets. Is there other stuff these conventional sources aren't telling us?
Heebie's take: I would also love an explainer on what happened, so that the baby doesn't get thrown out with the bathwater. Is this a case of trying to abruptly implement too large a change, rather than implementing in stages?
Posted by Heebie-Geebie
on 04.05.22
Sir Kraab writes: Yinz want to meet up April 5 or 6?
I'll be in Pittsburgh April 5-7. Does anyone want to meet up the evening of the 5th or 6th? I'll be at a conference at a downtown hotel so can get anywhere within a reasonable cab distance. I totally understand if folks don't want to be indoors (I feel ok-ish about it) but maybe there's someplace with a patio with heaters? Or the weather will be unseasonably warm?
(Bumped.)
Posted by Heebie-Geebie
on 04.05.22
I was looking around for something to post, and this annoyed me and I decided to go with it. They define stupidity as: "A stupid person, according to the economist, is one who causes problems for others without any clear benefit to himself," and give five laws of stupidity.
There's a whole lot of truth to the article, but also a whole lot of oversimplification. The terminology annoys me. (Helpless people are who do things that benefit society at a loss to themselves?) There are so many reasons that people do self-destructive things or pro-social things, and "stupid" and "helpless" both bring a lot of baggage.
I have a working theory, which I've shared here before I think, where for your first 20 years or so of learning about the world, your brain is operating as a lumper, and that after that it's time to start operating as a splitter. This article is heavy on the "lumper". (At the same time, he's not entirely wrong.)
(BTW, it's not paywalled on Pocket, but is paywalled on QZ, so ¯\_(ツ)_/¯ )

Posted by Heebie-Geebie
on 04.04.22
I was at a conference this past weekend, my first in-person conference since 2019. On mask wearing, I kept one in my pocket or on my wrist, and then put it on if my nearest neighbors were wearing a mask. It reminded me of those nearest-neighbor algorithms that produce emergent behavior. Would we have a murmur of masks, shimmering across the crowd?
On a different topic: I wondered if the uncanny valley has biological origins in the benefit of being scared of societies that aren't your own. Like, does the basic tribalism of warring high schools have something to do with how closely the two groups do resemble each other, but something's not quite right?
Finally: I learned that Janis Joplin was on a competitive slide rule team in high school.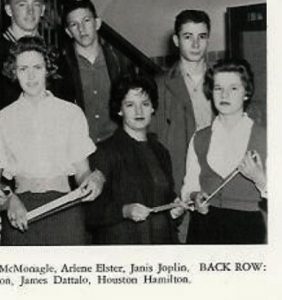 Posted by Heebie-Geebie
on 04.03.22
This is intended to be our system for checking in on imaginary friends, so that we know whether or not to be concerned if you go offline for a while. There is no way it could function as that sentence implies, but it's still nice to have a thread.
Episode Kobe twenty one