Posted by Heebie-Geebie
on 12.12.18
1. It is super dumb to talk about presidential primaries at this point.
2. I like Beto as much as the next guy.
3. Talk of him being the Democratic nominee is annoying me. I feel like he's had it too easy. I don't exactly know what I mean by that, so don't bother poking holes in it.
4. On a different topic, this is right:
Double standards are Paul Ryan being elected at 28 and immediately being given the benefit of his ill-considered policies considered genius; and me winning a primary at 28 to immediately be treated with suspicion & scrutinized, down to my clothing, of being a fraud.
I'm having trouble embedding this tweet, but it's Ocasio-Cortez linking to Ezra Klein, "I gave Paul Ryan the benefit of the doubt. I was wrong."
Yes, you were.
Posted by Heebie-Geebie
on 12.11.18
An acquaintance at the other place is talking about grading papers for their Human Sexuality course. The papers are on My Sexual Autobiography. The acquaintance put the prompt in the comments, which is very detailed and includes how you first learned about sex and sexuality, your first encounters, your first sex or anticipation thereof, and your expectations for future sexual encounters. (It actually has six parts and maybe 30 subprompts.)
It's probably a very good experience for a lot of students to put their sexual identity into a narrative and reflect on it. I guess it's fine. I'm not taking the class, and honestly as an undergrad I would have probably felt very grown up writing out such a thing.
It's still weird, though. Those are private questions!
Posted by Heebie-Geebie
on 12.11.18
At one point someone requested a gift recommendation thread, and then last night I regretted not having done it. Let's do it! What are successful gifts for various ages, sorts of people, and price points?
I'll kick things off with my go-to gifts for small children: stomp rockets and doctor's kits. Both for 3-5 year olds or so.
Posted by Heebie-Geebie
on 12.10.18
This Toronto artists makes cool stuff, but got severe lead and arsenic poisoning from handling the mussel shells she uses to make her sculptures.
Whenever I read about this, or about microplastics in our blood, or pthalates, or all the other things that scare me, I think there needs to be a 23andme version of a toxicology report: a mail-order service that bypasses the doctor. Something that can be given as a weird-cute gift, almost, although it doesn't quite have the appeal of finding your long-lost cousin. Basically, the knowledge of what's poisoning you needs to be easily accessible and separated from the realm of doctor visits, so that healthy-and-politically-dumb people get riled up enough to demand environmental protections over this stuff.
Posted by Heebie-Geebie
on 12.10.18
Charleycarp sends in: Michigan doesn't make sense.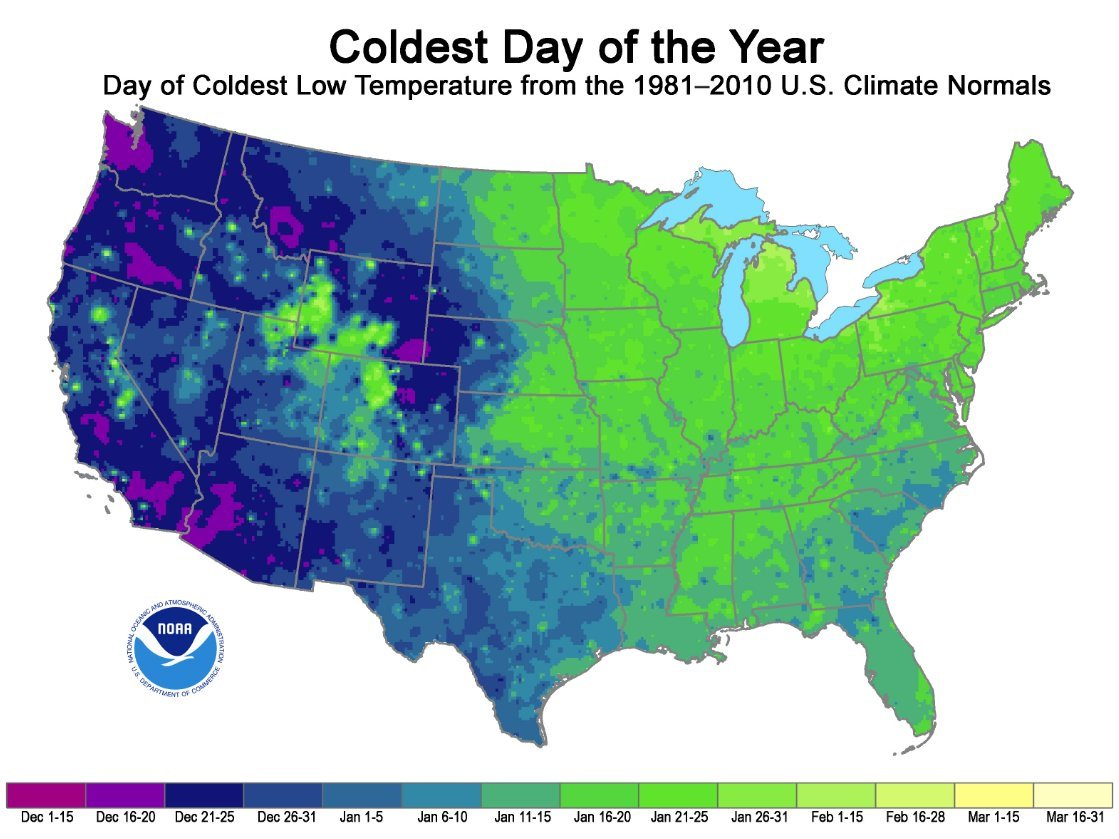 Heebie's take: this needs to be in tandem with the hottest day of the year map, because what I'm concerned about is if it's just a uniform temporal shift, or if certain places have season-compression and expansion. Like, is Michigan's hottest day equally displaced? Or do they have a compressed spring and sprawling fall???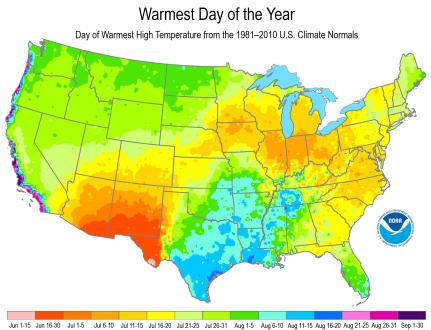 Michigan looks like it has a very short spring and long fall. In contrast, the southwest states look uniformly translated to be early, which is actually right at the actual solstices. In central Texas, we have a compressed fall and elongated spring, which makes me sad. Not sad enough to live in Michigan again, though.
Posted by LizardBreath
on 12.09.18
Barry's around and available until 12/20 -- anyone want to come out for drinks? If so, name an evening and a bar.
Posted by Heebie-Geebie
on 12.08.18
Mokie charassy writes: Interesting but irritating New Yorker piece by Ben Taub. Irritating in that the author decries lots of policies but doesn't consider alternatives at all.
"Déby basically blackmails us, saying, 'If I fall, there's a direct line between ISIS in the north, Boko Haram in the south, and Al Qaeda in the west.' "
True; but one must admit the man has a point, considering
[Boko Haram] fighters terrorized remote villages, tossing grenades into huts and burning down mosques. They raped women, slaughtered men, and kidnapped children, whom they forced to carry out suicide bombings. Shekau pledged his group's allegiance to the Islamic State, but his battlefield tactics were so depraved that ISIS eventually disowned him.
Or:
in a neglected patch of territory, the international community ends up fulfilling the unwanted obligations of statehood. The regime reaps the benefit: the threats that arise from its failure to govern are mitigated, and its leader is left to focus on the task of strengthening the security apparatus that keeps him in power.
Also true, but the alternatives are what? Leaving people to starve? State failure? Not that I expect Taub to lay out a comprehensive policy, but I expect him at least to acknowledge what the alternatives look like. The piece is basically ahistorical and generally ignores local agency.
I have asked many American diplomatic and military officials to define a coherent long-term strategy for the region, but none of them have been able to articulate more than a vague wish
And what do all the local officials think? About, for instance, upstream diversions for irrigation projects in Chad and Nigeria, responsible for about
half the shrinkage of the lake
? (Taub mentions only climate change.) He gestures at the "complex cruelties of colonialism" without mentioning the complex cruelties of local pre-colonial
polities
like
this
-- predatory states heavily involved in slaving (which the colonial powers suppressed); and in which context Boko Haram actions like
kidnapping entire villages, replenishing its military ranks and collecting new wives, children, farmers, and fishermen to sustain its campaigns.
look rather different. Taub talks repeatedly about the arbitrariness of the colonial borders, without even suggesting how redrawing those borders would change anything, nor offering much evidence that they make anything worse. He cites poor cross-border military co-ordination (a problem of organization, not borders); and offers this:
When these nations enforced their borders, the fishermen and cattle herders of Bougourmi, which is in Chad, were cut off from the lake's biggest market, which is in Baga, on the Nigerian shoreline.
But says later
Many islanders were open to Boko Haram. The Boudouma used Nigerian currency
And why were these Chadians using naira? I don't know, but I'm guessing it's because fish are their principal cash income and they sold fish in Nigeria whenever they wanted. By his own evidence, the borders don't matter: Boko Haram crosses them at will; Chad clearly doesn't control its own territory
For two years, the Chadian Army had been telling the U.N. that the islands were empty and off limits, but now, he said, "we realized that there were about forty thousand people living there."
And (
elsewhere
) neither does Cameroon (70,000 Nigerians migrated there, following the retreating shoreline).Also, he mentions the Toyota Wars, if you want to talk about that instead.