Posted by Heebie-Geebie
on 06.16.23
JRoth writes: I don't have much to say about this matter--in brief, a philosophy prof found that one of his old exams had been posted, with answers, to Quizlet, so he had that taken down and then uploaded this semester's test with flagrantly incorrect answers. Anyone who got enough wrong answers matching those he assumed had cheated. What I like is that, when he was accused of entrapment or whatever, he basically told people to eat shit:
"I would take that possibility a lot more seriously if that were the judgment of my immediate peers (philosophers at least, if not specifically ethicists), and even more so still if those peers could articulate an argument beyond simplistic accusations of dishonesty or 'entrapment.'"
Anyway, seems like a good Unfogged topic.
Heebie's take: The argument against what he did is that a kid may have unlearned some correct material and internalized some incorrect material in consulting that website. What I mean is there's several possibilities for how students might use this material:
1. Clueless student memorizes wrong answers, gets busted.
2. Well-informed student reads wrong answers, realizes they're getting played, and does not use the wrong answers.
3. Middling student has studied somewhat and partially understands the material. Decides to consult Quizlet. Panics, thinking they've royally misunderstood the material and need to totally wipe the slate clean. Purges all their semi-correct knowledge and learns the faulty knowledge.
I'm not actually particularly opposed to what he did. "Don't trust random sources" is a different-but-good lesson for students to learn! I'm just taking up the challenge of articulating an argument beyond dishonesty or entrapment.
He does respond to this argument in the linked post:
My thinking was that anyone who gave a sufficient number of those same answers would be exposing themselves, not only as someone who cheated by looking up the final online, but who didn't even pay enough attention in class to notice how wrong the answers were.
My actual answer is that I don't think there's any way to make remote testing remotely cheat-proof (unless you make it open-note/open-internet/open-collaboration). All he did was catch the people using the easiest path. Not only is it too easy to cheat, it's so extremely unfair to honest students that some honest students will convert to cheating out of the sheer feeling that the deck is too stacked against them, given the percent of peers who are cheating.
When I planned my courses for Spring 2021, I was totally sick of the remote-teaching-facilitated cheating. So I made the following policy on my syllabus: for the tests, you had a choice. You could either:
1. take the test in person, masked and spaced
2. take the test remotely, on camera, and then have an additional one-on-one exam with me over zoom.
The first calculus test included derivative shortcuts, which is of course the easiest topic to cheat on, even on a one-on-one zoom call. I had a small subset of students take the second option.
The twist was that on the zoom, I said brightly, "Ok, close your eyes! I'm going to ask you a few derivatives!" I'd already looked at their written test and seen that they professed to be on their game for derivative shortcuts, and then I asked them painfully easy factual questions, ("What's the derivative of cosine x?") That led to two of the most excruciating you're-busted scenarios I've ever had.
(I actually truly loathe busting students for cheating, or rather the conversation you have to have with them sometimes. That whole experience was miserable, but my irritation at their cheating outweighed my conflict-avoidance.)
Posted by Heebie-Geebie
on 06.15.23
The problem with the colonoscopy is not the procedure itself, but the prep the day before. My first adventure with the camera is tomorrow.
I am not inclined to live up to the standard in the archives, though.
Everyone seems to do Cologuard instead. Immediately after I left my regular (every 5 years) birthday checkup, I got a text message from the Cologuard people and thought it had been initiated by my doctor, and went with it. My doctor told me he preferred the real deal, though. (And he is also the one who advocated starting at 45 instead of 50, and invoked Chadwick Boseman to scare me into compliance. Then this doctor left this practice so I guess I'm being handed off, anyway.)
Anyway! I dutifully ate a very low residue diet all week, and listened to this podcast in preparation, and prepared my potion this morning, and stuck it in the fridge to chill until 4 pm. Wheeee!
One last gripe: the nurse, back in February, happened to give me colonoscopy prep instructions, and I kept them. GOOD THING, because I couldn't get ahold of anyone to give me instructions last week, and they didn't in fact reach out to me until Tuesday, when I needed to have planned my groceries and switched my diet over on Monday. What the hell.
Posted by Heebie-Geebie
on 06.14.23
Chris Y writes: I always tip taxi drivers because I was brought up to. When I could stay in hotels I used to leave £5-10 in the room for the housekeepers. In restaurants it would depend on the general act. I wouldn't tip in a fast food joint, unless they had a tip jar, because I wouldn't know who got it, but if I was sitting down I'd usually leave 10 to15% depending on how much I'd enjoyed the evening. Leaving nothing I felt was an ostentatious downvote.
Some upmarket restaurants have a no tips policy stated on the menu and I would only leave an additional amount if the whole deal is outstanding. We were once chased down the street by the waiter at such an establishment to return the additional tip we'd left. Moderately embarrassing.
We always used to tip fast food delivery drivers, but lately they've taken to adding a gratuity to the charge, so we try not to use them at all, because what are the odds it isn't siphoned off by management?
I would always tip cash for the same reason.
Heebie's take: From the link: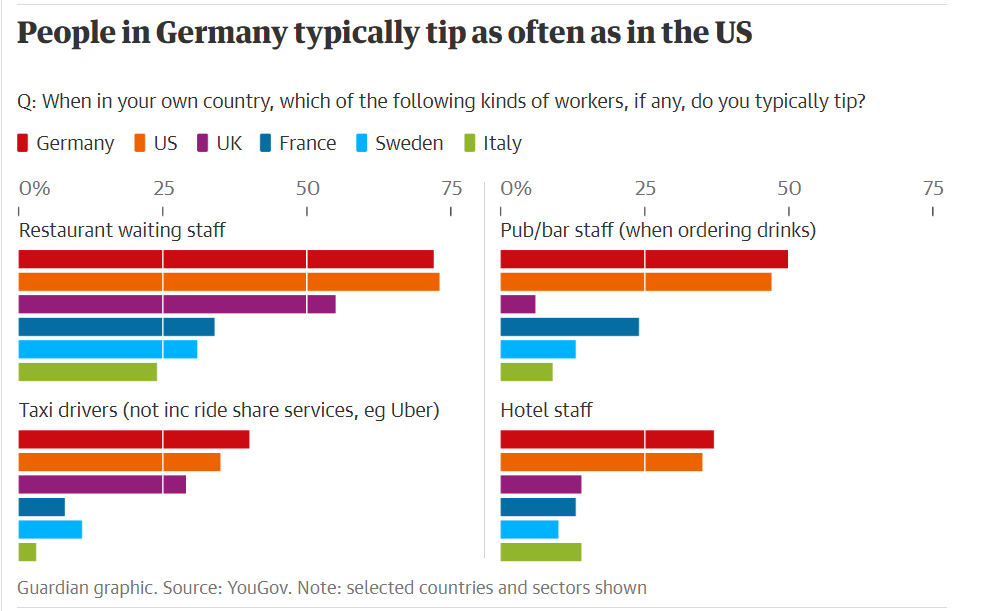 For me, I tip a much higher percent at a low-end establishment, because I figure the server is working just as hard as the server at a high-end establishment, and deserves to be equally compensated. Since I am rarely ever anywhere high end (anymore), my percentages skew high. If I buy one $6 cocktail, I can imagine just putting down $10. However, I'd sleep like shit that night because I can't tolerate alcohol anymore.
On the rare occasions I'm forced to shell out for something high end, it's usually not by choice, and it has tended towards that phony resort-style faux-high-end where the prices are eye-popping, and everything is delicious, presentation is spotless, there's lots of marble and large scale open spaces, and the whole thing is boringly, hopelessly basic. To paraphrase, a rich person's version of a poor person's version of opulence. At these such places, I tend to stick to 15%.
(The kind of high end that's really worth the experience is something that will maybe return in a different season of my life. Probably not this season.)

Posted by Heebie-Geebie
on 06.13.23
Minivet writes: Biglaw drama! Short version:
Two top partners of a huge LA firm depart to strike out on their own, and take at least 140 lawyers (of a total ~1,700) with them.
As the LA Times glosses it, the partners criticize the firm in the media for cutting corners and abusing its workers. If they're talking about this article. the direct quotes to that effect seem a little more careful than that gloss implies, but still pointed: "Quality comes first. Quantity and billable hours come second. We wanted to lead with empathy, collaboration and compassion... if profit takes a back seat, then profit takes a back seat..."
The original firm shares a trove of semi-redacted emails over many years showing those two partners were using every form of racial, anti-Semitic, and sexist abuse under the sum - including trying to coin some new ones. "G**** is my new word to describe about half of the minorities in California. Generally with an Armo, Persian or middle eastern flair."
The new firm collapses, the other people trying to un-resign.

It's especially impressive since the two focused on employment law and they would have been nailing managers routinely for what was in their discoverable emails. It seems like this was part of the thrill/dominance feeling for them: there is an email where one says the other could search his own past emails for slurs, for fun.
The original firm was able to ethically justify the public release by saying it was so that people potentially joining the new firm could be fully informed on what it might be like; but the actual motivation has to be revenge, for which it was also effective. Stretching the doctrine of double effect for all it's worth.
Heebie's take: It's kind of funny how easy it is to understand their selective application of their code of ethics. The things I do aren't actually bad. We're just kidding around. Like Minivet said, the surprising part is maybe how dense they were that this might be weaponized against them.

Posted by Ogged
on 06.12.23
This is wrong, but for all that it will matter, it might as well be right. Remote work can be done well, but it requires companies to be very intentional about making it work, and most companies simply won't.
This is also wrong. Who says number of championships is the only way to measure greatness, particularly when the difference is relatively small, and due to longevity? Go with your heart, Kevin. Federer is the correct answer.
Posted by Heebie-Geebie
on 06.12.23
NickS writes: In the discussion of the post about the humanities there was some discussion about the proper uses of data*. I would be curious to know how people think about sites like Our World In Data.
This essay has a stirring description of why they think data is important.
Our World in Data publishes research and data to make progress against the world's largest problems.

We made this our mission for two reasons. We want to provide the research and data that those people who are working towards progress need - we want to serve that community.

And we want more people to learn about big problems and to make the decision that they use their energy and resources to contribute to progress - we want to grow that community.
,,,
Our second goal is to grow the number of people who decide to contribute to progress against the largest problems.

There are already many people who dedicate much of their time to study big global problems and make it central to their life to seek ways to solve them. But we believe that it is possible to grow this group further and make it a very powerful force within the global culture, because most people are concerned about the world's problems and would want to contribute to a better future.

The problem however is that being concerned about big problems is only one precondition for someone to work towards progress. The other key requirement is that a person knows that progress is possible.
Is that an inspiring vision, too facile, or both? My first reaction is appreciation. The site was extremely valuable for comparing COVID data, and remains my default source for international comparisons.It is handy, for example, to see headlines about Poland approaching the UK in GDP/Capita and easily look up historical trends. But, the discussion in the Humanities thread made me think that there is a flip side as well. It focuses attention on what can be measured -- or, more specifically -- what is currently being measured, and that lends itself to certain sorts of stories. To their credit they have a number of pages that bring together a wide range of data on a single topic in a way that encourages seeing each chart as a single element of a broader picture, but it still emphasizes a certain sort of statistical world view.
Do other people use the site much? I don't use it frequently, but it has nevertheless become one of my default data sources (particularly for economic or COVID data).
* Both ajay and teofilo approved of undergraduates moving towards a more statistical approach:
"Even if I'm in the humanities, and giving my impression of something, somebody might point out to me, 'Well, who was your sample? How are you gathering your data?' " he said. "I mean, statistics is everywhere. It's part of any good critical analysis of things."
But there was also a concern about using statistical measures devoid of context. For example teofilo wrote, I'm sure [Noah Smith's] policy conclusions are basically correct, but it's weirdly devoid of any sort of cultural or historical context. He talks about government policy and decision-making as if it's purely about abstract economic theory and how to maximize growth, and as a result seems baffled by decisions that don't fit that mold. Presumably there are political, maybe cultural, certainly historical reasons for those "wrong" decisions, but he seems oddly uninterested in exploring any of that even though it's obviously relevant to getting to the "right" decisions in practice. This is the sort of thing that I find annoying about him and similar econ-oriented pundits.
Heebie's take: I do think there's something to the idea that most complex problems are best approached with a blend of rigorous stats and understanding the context and the complexity of the things that can't be measured and shoe-horned into available statistics. You can't be a mad scientist, but you also can't just be a short story writer.
It's very hard. People are so fallible.