Posted by LizardBreath
on 06.24.22
The Sacramento Bee reporting on Megan's experiences needing two abortions late in pregnancy. Even before today's horrible opinion, and even in the bluest of blue states, right-wing terrorism has been effective in immiserating women. I've selected a couple of paragraphs below, but it's worth reading the whole thing:

Megan Fidell went into her third trimester convinced she was pregnant with a healthy baby. One morning in her 31st week, she woke up excited to go to the doctor and see her baby on an ultrasound; by 11 a.m., she and her partner, David Lemon, were pacing through the park in tears, resolved to terminate the pregnancy.

Severe hydrocephalus, Fidell's doctor had told the couple that spring day in 2012. Pointing to the black-and-white ultrasound images, the obstetrician showed them where the baby's brain should be. There was a huge dark space. The doctor explained the baby's head was so large that Fidell would need a risky C-section. She said that the baby's ventricles were full of fluid; Fidell saw that the brain was a film on the edge of the skull. There was no cure. The baby might never speak words. He would have to endure surgery before he turned 1, if he even lived that long....
...California has a relatively narrow definition of viability, which occurs when "there is a reasonable likelihood of the fetus's sustained survival outside the uterus without the application of extraordinary medical measures" -- extraordinary measures may very well be necessary to ensure the survival of, for example, a baby born nearly four months premature.

Nonetheless, the viability restriction doesn't just serve to make certain abortions illegal; it also creates a climate where doctors are afraid to provide legal care to pregnant Californians. It's almost impossible to find a clinic in the state that will even consider taking on patients who are past 24 weeks, even though some fetuses wouldn't be considered viable until several weeks later. The actual gestational age of viability is determined by doctors on a case-by-case basis; there's no set age, even without the "extraordinary medical measures" caveat.

The Bee spoke with the director of a California clinic that performs abortions after 24 weeks; he pointed out that the law clearly gives doctors flexibility in determining when the restriction applies. And yet, among the small number of providers in-state who will perform abortions later in the second trimester, the director said, "Almost every other provider other than us has an internal policy limit of 24 weeks. ... There is a perception, even among a lot of abortion providers, that there is a 24-week limit in California for abortion care, which is not the case."

The director -- whose name is being withheld by The Bee because anti-abortion rights extremists have harassed, attacked and assassinated health care providers in the past -- said he wished he could "shout it from the rooftops," but the clinic does not advertise the services they offer out of fear that the workers and patients at the office would become the targets of violence.
Posted by Heebie-Geebie
on 06.24.22
Probably time for a Supreme Court thread, eh?
Posted by Heebie-Geebie
on 06.24.22
Three superficially similar things, ordered from best to worst efficiency of travel time and moral valence:
1. HOV lanes. Maybe in implementation things go wrong, but the general premise is to incentivize ride-sharing. It benefits people who do not then carpool because there are fewer total cars on the road (and it also is good for the environment).
2. Toll lanes. People with money can skip traffic jams. (Public money subsidizes wealthier people's reduced travel time, which is crap.) Mildly reduces the traffic on the main highway, but probably not significantly. If the money collected went to subsidize public transportation, it would be better. Probably airport pre-check lanes are in this category.
3. FastPass type passes at amusement parks. Wealthier people can skip the line, but importantly, their use of FastPass makes the experience worse for everyone else.
Like at the water park yesterday, there is a gatekeeper stationed about 5 minutes wait from the front of the line. The gatekeeper alternates between people who have been waiting in the sun for 45 minutes and people who have purchased the FastPass. This makes the park so much worse for everyone else!
The one that pissed me off the most was one particular gatekeeper. There were not enough FastPast purchasers to keep the every-other-entry thing going. However, they would not fill the mini-5-minute wait line with people from the main line. In other words, there was an opportunity to shorten the big line by letting the plebes use an un-used slot, and the gatekeeper preferred to just wait and keep it available so that a FastPast user might only have to wait 1 minute instead of 5 minutes. I loathe class signifiers so much.

Posted by Heebie-Geebie
on 06.23.22
Minivet writes: This seems like it could result in juicy enough material to cut through the noise.
Although I would have thought Trump had more sense in regards to destroying the evidence. Maybe when immortalization through film becomes a prospect that goes out the window.
Heebie's take: please please please.
(An extremely minor detail: the documentary is supposedly to be called Unprecedented, which totally annoys me because it's encouraging everyone to make a dumb pun which is not new. Either incorporate your dumb pun in your title or don't dance near it like this.)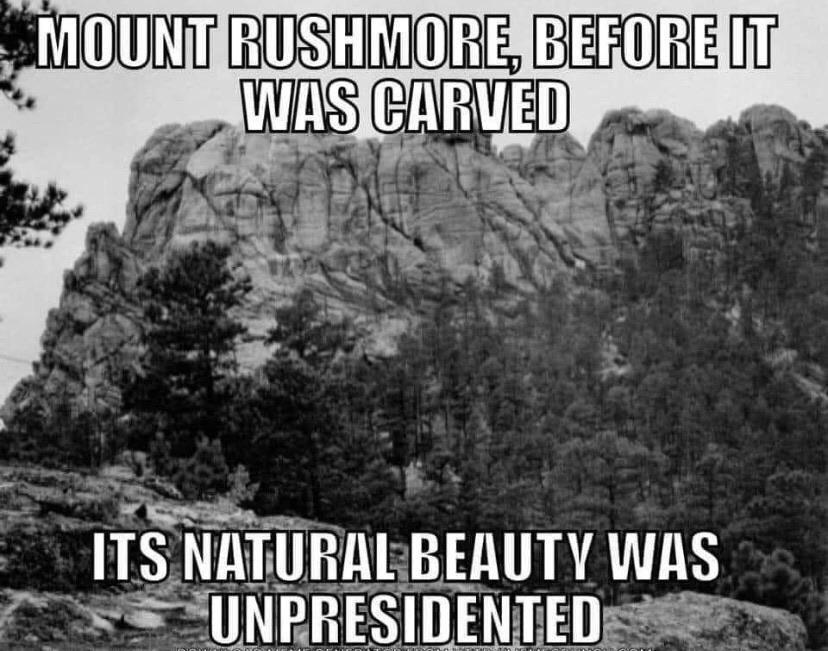 Posted by Heebie-Geebie
on 06.22.22
Those who can't celebrate the 4th of July in Ohio must LARP it. These guys live in Poland:
It started about five years ago, together with a bunch of friends. We decided to do a LARP. Inspired by Stranger Things and X-Files - we wanted to recreate a small town in the United States where strange things happen and because of that, men in black arrive. We visited various resorts in Poland, looking for one that would perfectly reflect the small town on the edge of the great gloomy forest....Then when you grow up and information is shared more, it turns out that it's not so nice in the States. We came up with [the idea of this] "broken American dream", and this was the motif for the project.
Truly you just need to see the pictures. There are some in the link above, but also here's a tweet with some highlights, and here's the full Facebook post (no log in needed).
Most of it is extremely convincing! Sometimes their expressions are off in subtle ways - maybe that's just an artifact of playing pretend, and not necessarily straddling cultures.
Have you seen the reaction from Americans on the internet? It's funny because the biggest storm [online] broke out the day before we started preparing for the third round. We were already very involved in the production of the next game and setting up the scenery, so we didn't have much time to write back to people or manage what was happening on the Internet. But that just gave us the energy to produce the next project.
What comments stuck with you?
Americans very often pay attention to the same things... They keep saying that there aren't enough old cars, not enough trash, that the BBQs are too small, and that the people are too clean, too slim and too pretty - their words, not mine. They also draw attention to the lack of racial diversity. There were also a few people who wanted to send us parcels from the States, such as the legendary red cups, to make it even more faithful.
Tough but fair.
Posted by Heebie-Geebie
on 06.21.22
We listened to Serial's latest serial, The Trojan Horse Affair, on the way back from Florida this past weekend. It was great. (I think much better than the one on Hae Min Lee, because they didn't attempt to record it as they went. They investigated for two years and then designed to podcast to unfold with a good narrative arc. And better than the ones on the Afghanistan soldier who deserted his crew and S-Town, because those were both boring.)
Basically, the Birmingham school district had a number of schools which were majority-Muslim, and they'd been dismally failing their students, and then some key administrators sort of whipped the schools into shape, and they became great schools. Then an extremely racist letter emerges and gets picked up by the press and national government, alleging that there's a massive Islamic extremist plot underway to take over the schools. (This is the Trojan Horse letter.) Eventually there are a bunch of trials of specific teachers and admin, and some are found guilty, and the key volunteer-in-charge (called a governor, functioning like a school board president) is banned from holding such positions in the future.
The central thesis of the series is that the entire proceedings were rife with an appalling degree of Islamophobia, and largely without merit. I think they made a very convincing case. Furthermore, this Guardian article takes issue with the podcast, but it's super flimsy - every single issue raised by the article is actually dealt with squarely by the podcast, and the reporters didn't shy away when things got murky.
However, I don't think that I ever heard of this whole sordid mess before now, and so maybe people who were paying attention have a different opinion from these guys.
Spoilers allowed in the thread.
Posted by LizardBreath
on 06.20.22
He says: Hey fellow reprobates, I'm heading to DC for the big ALA conference. I'm staying near the Walter E. Washington Conference Center. I'll be in town from June 22 (arriving around 5 or 6) and leaving on the 28th. I'd love a meetup so please chime in if you're game and also please suggest venues, I haven't been in DC since I was a teen.
Posted by Heebie-Geebie
on 06.20.22
NickS writes: This NYer story about a Texas family getting an abortion is carefully written and attentive to the details of the experience:
For Laura's family, the nearest option was Oklahoma, but none of the clinics that [her father's] girlfriend called had appointments available. In Arkansas, the wait to see a doctor would be weeks--a delay that the father thought would be hard on Laura, an eighth grader who sometimes spoke of feeling isolated and depressed. "I'm not putting her through that," the father told his girlfriend. Finally, seven calls later, the girlfriend reached a clinic in Santa Teresa, New Mexico, whose doctor could see Laura that weekend. It was a decent place, the girlfriend could report with confidence; she'd taken a pregnant relative there the month before. There were two catches, though. The clinic was seven hundred miles away, and the cost was, for the family, exorbitant.
Under Texas law, insurers are forbidden to cover abortions unless the woman's life is at risk. At the New Mexico clinic, the appointment to get a sonogram and obtain the five abortion pills would cost the family seven hundred dollars. And, because the trip was so long--ten or eleven hours by car--they would also have to leave a day early and pay for somewhere to spend the night. The previous month, the father had ransacked his savings to make a five-thousand-dollar down payment on a three-bedroom house--a step up from the decrepit rental where the family had lived for five years. After renting a U-Haul truck for the move, paying utility deposits, and buying pots, pans, and a toaster, all he had left was fifteen hundred dollars--his emergency stash, "something to fall back on," he said. He felt sick at the thought that he'd now be using that stash to secure a legal abortion for Laura in New Mexico.
Heebie's take: It is really good. What a goddamn nightmare we're plunging into.
Also, I found this interesting:
One longitudinal project, the Turnaway Study, found that women who were denied an abortion they had hoped for were almost four times more likely to fall below the federal poverty line than women who had received one.
Here's the Turnaway website with more info.
This is the least novel observation in the world, but let's just note sheer destructive hypocrisy of how Republicans impoverish mothers and make it so economically disastrous to keep a pregnancy.
(A novel take isn't always the best take, though. We don't need new insight on the topic of Republican destruction. The dull, repetitive take is sometimes the most accurate.)