Posted by Heebie-Geebie
on 07.05.19
Unimaginative writes: Happy fifth of July everyone. I love the Fort Billingsport sign. It's in front of a tiny park that has a playground, where I used to take my son, and a great view of Philadelphia. It tells a great story.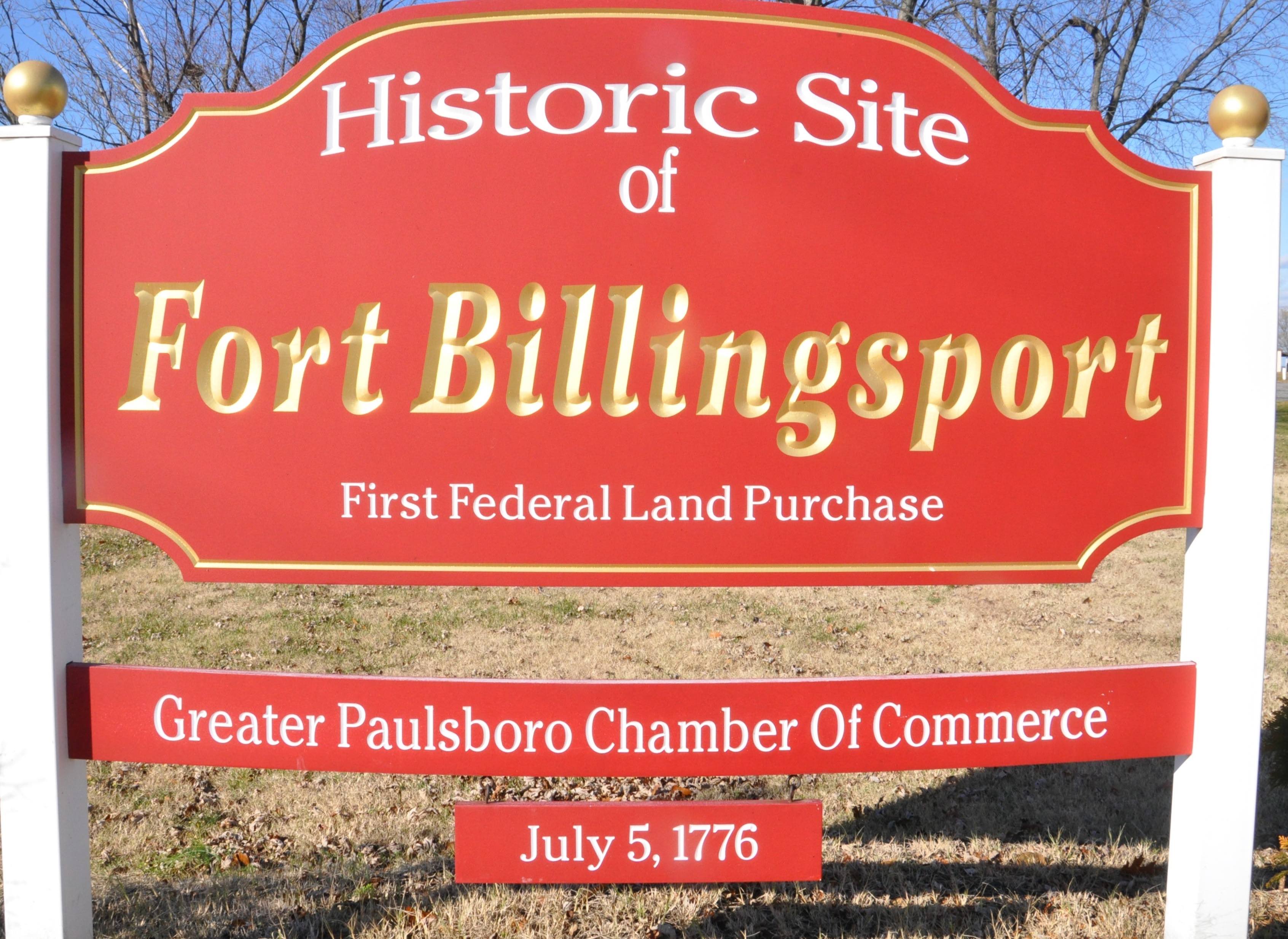 The official version: The Second Continental Congress needed to build a string of forts on the Delaware River to protect the national capital, Philadelphia, and Paulsboro was the perfect location for the first one. A resolution authorizing the purchase was passed, and on July 5, 1776, the day after they did that other thing, the Second Continental Congress acquired a 96 acre waterfront property. The sellers, the widow Margaret Paul and her son, Benjamin Weatherby, received 600 Pennsylvania pounds.
The rest of the story isn't on the internet (until now!). It is best told by recounting a conversation between the New Jersey delegates to the Second Constitutional Congress and their constituents, the Widow Paul and Mr. Weatherby, that must have occurred on or around the morning of July 5:

***
Delegates: "Good news! We convinced the Continental Congress to buy that 96 acre swamp you've been trying to unload. You'll get 600 Pennsylvania pounds, less our commission of course. Here are the documents."

The property sellers start leafing through the documents, which includes a deed of sale, they will have to sign, the resolution of the Second Continental Congress approving the acquisition, some financial stuff, another piece of paper with fancy script that the New Jersey delegates, and a lot of other white men, have signed. Widow and son: "What's this thing about?"
Delegates: "Oh, yeah, don't pay any attention to that. Some dude from Virginia said he'd support your real estate deal if we signed it. So what the heck. "
Heebie's take: happy 5th indeed!

Posted by Heebie-Geebie
on 07.04.19
Mossy Character writes: Charming.
In 2016, a Chinese-owned fishmeal manufacturer, Golden Lead, opened a factory and started operations at Gunjur Beach [the Gambia].[...]In spite of the [National Environment Agency]'s earlier demands, Golden Lead was soon permitted to reinstall a waste pipe.[...]Golden Lead this time chose a central spot on Gunjur beach to lay the waste pipe and staff members raised a Chinese flag in the process [picture].
(Also, "Golden Lead"? So much to work with there.)
Tourists entering China's Xinjiang region are reportedly being forced to install an app[...]collects all of the phone's calendar entries, contacts, call logs, and texts and uploads them to a server. The app also conducts a search for files related to Islam, checking for more than 70,000 predetermined files. While analysts couldn't determine all of the files on the app's watch list, the majority that were identified were Islamic extremist content. However, other files were linked to parts of the Quran, documents from the Dalai Lama, and even a pro-Taiwan song from a Japanese metal band.
And not correct enough
:
Thousands of ethnic Hui Muslims rallied in the city, forcing the government to drop the order to tear down the [mosque]. The authorities later adopted a "rectification plan" to make it "less Arabic" in style. [...] "The inspection team sent by Beijing clearly were not satisfied with how Ningxia handled the matter and [they thought] Gao and his team should have stood firm on political discipline," the source said.[...]Gao [...] began his political career as a prosecutor in Ningxia [...] was promoted to political commissar of Ningxia's police force in 2009, mainly in charge of the region's anti-cult operations. He was appointed the commission's director in January 2018.
Heebie's take: we are hitting the road today, although the bulk of the driving will be early next week. As always, guest posts are welcome!
(Also happy fourth of July. What a wreck of a country, huh?)
Posted by Heebie-Geebie
on 07.03.19
1. On immigration: I don't understand why nobody's answer is "The most important thing is to crack down on the violations of labor laws by the companies employing undocumented workers. The actual people crossing the border are to be treated humanely. If they're refugees, they go into the court system, and if they're coming over for work, and there's no advantage to hiring someone undocumented, there will be far fewer opportunities." Why not make it a problem of unethical companies and unenforced labor laws, which is what I think is the actual problem (insofar as there is one)? Surely this would be popular with lefties - we would love to take a complex issue and unilaterally blame rightwing corporations.
2. On health care: why are people taking a detailed stand on whether they'd get rid of private health care? Am I aging into disconnectedness? It seems like such a nonstarter. Public option? Great. Medicare for all? Yes, please. Why get rid of private insurance, though, instead of letting itself settle into the luxury niche?
Note: I did not watch any of the debates. This is loosely based on headlines and conversations with other people. I haven't even read much in the way of coverage of the debates.
Posted by Heebie-Geebie
on 07.02.19
This is a very sweet piece by Megan Rapinoe's girlfriend, Sue Bird, titled "So the President F*cking Hates My Girlfriend."
(I love playing soccer and I love the abstract idea of following the women's soccer team super closely, but I also can't seem to pay attention to sports. Sources close to me tell me there's a game today.)
Posted by Heebie-Geebie
on 07.01.19
Why do so many toothbrushes come with rubber bristles these days? Who likes that? So unpleasant.
I tried out this toothbrush recently and loved it:

I like how it looks like it has eyelashes. I like how I imagine the eyelashes gently clean your gum, because they're very soft (but longer than the rest).
I went to replace it, and it was no longer at the grocery store, so I ordered it off Amazon. They sent me this:
by mistake.
I went to the G.U.M. website, and they have my toothbrush as the masthead, but they only sell the imposter. It appears my eyelash toothbrush has been discontinued. It also appears that no one gives a damn about the difference besides me.
Am I going to be reduced to buying my eyelash toothbrushes on ebay??? Or am I going to go back to being the type of person who has never thought about this kind of thing?