Posted by Heebie-Geebie
on 09.08.23
I kinda (unintentionally) forgot about the check-in threads, but let's have one. How are you doing? How's your mamanem (as others say, not really me)?
I recently finished Tomorrow, and Tomorrow, and Tomorrow, and it has bled into my ongoing headspace to an outsized degree.
Also Jammies is dancing during the halftime show tonight with Hawaii, for the high school homecoming Daddy-Daughter dance. (Hawaii is on the dance team.) They had rehearsals to learn the choreography and everything. I'm excited for that.
Posted by Heebie-Geebie
on 09.07.23
J. Robot sends along "I Was a Contestant On an Early Aughts Reality Show So I Could Be The Hero of My Story." It's a little long and sprawling, but the central premise is this:
In order to transform me from Main Character™ to Villain™ the other participants accused me on camera of not taking the experiment seriously and not playing by the rules. When viewers came to the show months later, edited from three months of footage into 8 hours of television, that became their refrain, too. I was not acting like a "woman of the 19th century." I was "allowing my 21st century sensibilities to get in the way." This was my crime--disobeying the rules. This is how I became a Villain™.
I haven't seen the show she was on (Texas Ranch House, on PBS) or the show she's using as a modern counterpart (The Ultimatum: Queer Love), so I can't really offer a thesis of my own. But my suspicion is that she's downplaying this bit:
I admit I was guilty of being 25-years-old. I was slightly annoying and, at times, unself-aware, but I was never evil, manipulative, cruel, or controlling.
As in high school, the worst crime is never being evil, manipulative, cruel, or controlling. It's also not disobeying the rules. It's always the crime of being annoying.
These days, I'm a big softie and more forgiving of annoying people, compared to my younger intolerant self. Now it just makes me highly uncomfortable when one person is being annoying and another person is chafing overtly from it.
Posted by Heebie-Geebie
on 09.06.23
This article on how cartel violence on the Mexican side of the border has shaped border communities is really interesting and depressing.
This bit in particular jumped out at me:
It's not just in Rio Grande City that residents hear gunshots at night. In Laredo and Brownsville you can sometimes hear the same. Those eerie cracks in the darkness, along with all the horror stories of the cartel wars, had made fronterizos more amenable to one of Trump's primary political messages: "Build the wall." "The thing that the media doesn't understand is that Hispanics here, we want the wall," Silva had told me at one point when I talked to him in his downtown Brownsville shop.
I knew that Republicans overperformed in the Rio Grande Valley in 2020, compared to 2016, but I thought that was in spite of the wall, and not because of it. I remember when W. was putting a fence along the border, and it was super unpopular - dividing communities, fights over eminent domain, etc. The reporting back in the 2000s was solidly that border communities detested the fence.
But as for the wall, I verified this with friends who grew up on the border, and they confirmed that the wall is not as unpopular as you might think it was. There are plenty of people who think that the wall is worthless, divisive, and ineffective towards curbing the violence, but plenty others who are just mostly spooked about keeping the violence from spilling over, and also watching the migrants pile up on the Mexican side, and are glad to have the symbol.
My friends basically agreed with the gist of the article. For their family on the Mexican side, life is hugely constrained compared to what it was fifteen years ago. Get what you need, go to work, but socializing is confined to private residences, and everyone has walls and bars around their houses where they didn't used to.
Posted by Heebie-Geebie
on 09.05.23
Mossy Character writes:
1. Is it sinking in that Thatcherism is literally shit?
2. Does Labour appear capable of hanging this around Tory necks in 2024?
3. Why do so many arms of the British state have weird non-name names like Ofwat and Ofgem and English Heritage?
Heebie's take: No one could possibly want to read any answer I could generate.
Posted by Heebie-Geebie
on 09.04.23
This is one of those articles by that author that likes to make up his own countries to explain trends in the US. In this case, to explain how deadly it is to be governed by Republicans: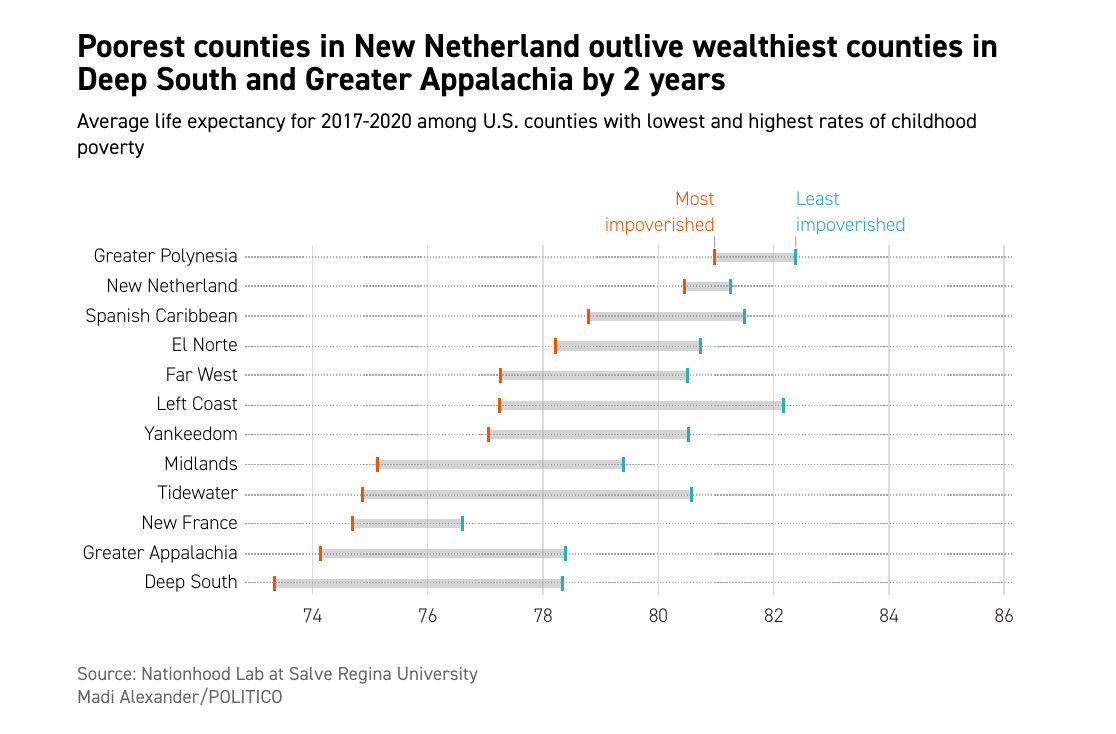 It's a really solid, comprehensive article, breaking things out by urban/rural and by race. They've accounted for pretty much all factors that I can think of, leaving just straight up public policy to blame for the remainder.
I guess age is still the actual biggest risk factor for mortality, though.
Happy Labor Day!