Posted by Heebie-Geebie
on 06.30.23
Sorry for the untimeliness!
I'm in upstate NY for the first time. It's very pretty!
Posted by Heebie-Geebie
on 06.29.23
Kanye has an extremely weird school, and he's being sued over practices there:
In a lawsuit filed earlier this month by two teachers who were recently terminated by Donda Academy, the (unaccredited) private, Christian school founded by the rapper Ye (formerly Kanye West), the list of the school's idiosyncratic practices reads like a rollicking parody even by celebrity-world standards.
According to the complaint against West and Donda, which was filed by Cecilia Hailey and Chekarey Byers, students at the K-12 school--which is named after West's late mother, Dr. Donda West, and is located in Chatsworth, a suburb in the San Fernando Valley--were required to wear "head to toe black" every day and forbidden to wear Adidas or Nike brands. All cups and bowls in the school had to be the color gray, and children were not permitted to use forks or other utensils when they ate. As for what they ate, it was sushi "every single day," according to the complaint. No outside food was permitted; only water was allowed to be brought to school. Crosswords and puzzle sheets were not permitted. And because, the complaint alleges, West is afraid of stairs, no classes were taught on the second floor. Chairs were also not allowed, so kids sat on foam cushions or stood during instruction and while having lunch.
I didn't quote the part that has the more problematic practices about curriculum omissions, bullying, lack of safety, etc. The whole article is pretty short.
Posted by Heebie-Geebie
on 06.28.23
E. Messily sends in Marjorie Taylor Greene implies she thinks she's being spied on via her TV.
In a tweet on Sunday, the Republican from Georgia said: "Last night in my DC residence, the television turned on by itself and the screen showed someone's laptop trying to connect to the TV."
Greene also linked to a CBS News story entitled "Your smart TV might be spying on you, FBI warns", a piece that linked to a 2019 warning about hacking and cybercriminals reported by TechCrunch.
Greene followed her tweet about her television with an altered image, Barack Obama's portrait changed to show the 44th president looking through binoculars from behind lush green foliage.
There is a reasonable explanation, but it's also quite reasonable that she's never heard of screen-casting:
Matt Binder, a reporter for Mashable, offered a less sinister explanation for what happened to Greene's TV.
A neighbour, he suggested, "accidentally tried to screen cast to the wrong TV".
and honestly, this is probably one of the least-loony beliefs she professes.
This is a wonderful piece of writing:
Currently pushing for Joe Biden to be impeached before he runs for the presidency again in 2024, Greene has also earned headlines by falling out with Lauren Boebert of Colorado, another far-right gadfly.
I do love their new rift.
(I may put this under the jump if it starts to be annoying to have an automated gif running. They really drive me crazy if they don't shut off after a few seconds.)
Posted by Heebie-Geebie
on 06.27.23
Ile sends in this suggestion for a potential book club: To Name the Bigger Lie, by Sarah Viren.
Ile writes: I think there was a post previously about this story when Sarah Viren wrote an article in 2020. I guess it ties into some conundrums around the edges of "believe accusers" as a rule of conduct. The overwhelming majority of accusations are true, but there's something very compelling about the cases where they are false, and the nightmarish surreality of being caught up in a false accusation makes us think about it more which makes us overperceive them as a possibility and empathize with the potential of of being falsely accused, so then we mistreat victims, hence the rule of conduct. But of course the rule of conduct is contrary to due process and the presumption of innocence and these false accusations do exist even if they are rare. And there's the notion that by overly ossifying it as a rule of conduct, bad actors get a bigger payoff from false accusations, so they are no longer so rare. So there's plenty of material for a book. Maybe I was picturing it as a book club idea?
Heebie's take: I had totally forgotten about the original 2020 NYT article, and for the life of me I can't find our discussion in TFA, but I do remember this story now: The author and her wife are married academics at Arizona State University. The author is offered a job at the University of Michigan, right as all these sexual harassment allegations are levied against her wife. A Title IX investigation is opened, and it evolves that these allegations are being fabricated by a guy who is next in line to get the job at U of M, but who understands thoroughly how to weaponize a university's proceedings in this kind of situation. Their life is turned upside down. It sounds just awful.
(I think, logistically, book club could mean just picking a date in a month, and having an open thread on the book. Speak up if you're interested!)
Posted by Heebie-Geebie
on 06.26.23
1. What has been displaced by online meet-cutes?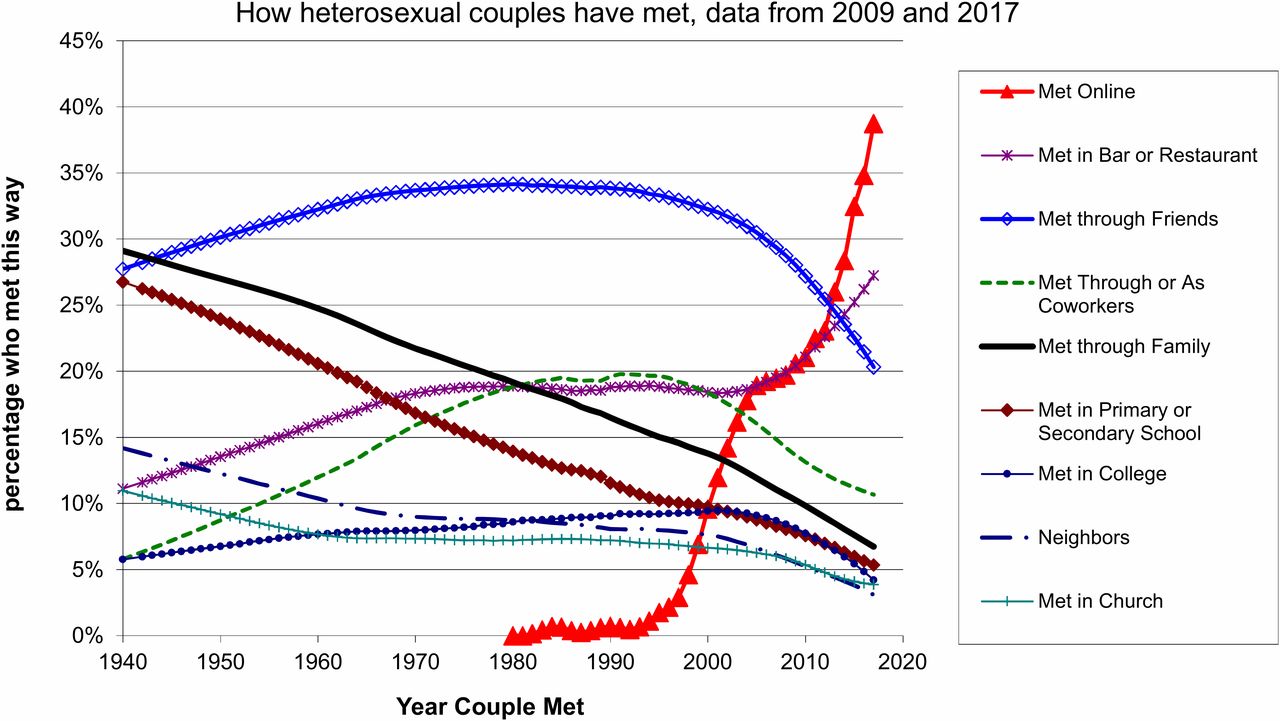 Full article. High school sweethearts and families of origin are really taking a hit there. I know two couples from high school that got together in 9th grade, and I know one of those well enough to say that it is actually a successful, happy relationship. But I also asked at one point something like, "Was it destiny, or was it oddball luck that you each happened to grow into compatible people?" and they said the latter.
2. I've come to think of Father's Day as the day when certain kinds of married women low-key announce their separations by heavily praising their brothers and fathers and omitting the fathers of their children. I can think of several off the top of my head where that's been the first public indication that they're not madly in love anymore.
I can understand their dilemma - if you're in the habit of writing of acknowledging these sorts of holidays, it probably feels like the emotionally honest way to do so, without actually having to write an uncomfortable post about conscious uncoupling or whatever.