Posted by Heebie-Geebie
on 08.25.23
Brace yourself, but Texans might be hypocritical:
In defending themselves against a lawsuit, Texas officials have argued that an "unborn child" may not have rights under the US constitution, putting them in tension with arguments made by the state's attorney general's office as well as Republican lawmakers to support restrictions to abortion.
A guard at the state prison in the community of Abilene filed the lawsuit in question after she asserted that her superiors barred her from going to the hospital while she experienced intense labor pains and what she suspected were contractions while seven months pregnant and on duty.
The guard - who is named Salia Issa - was finally able to leave to go to the hospital two and a half hours after the pain started. She was rushed into emergency surgery after doctors were unable to find a fetal heartbeat and she ultimately delivered the baby in a stillbirth. The lawsuit claims that if Issa had been able to get to the hospital sooner, the baby would have survived.
As any Texan would say, don't piss on my leg and tell me it's raining.
(via E. Messily)
Posted by Heebie-Geebie
on 08.24.23
This is from a few days ago, definitely pre-debate: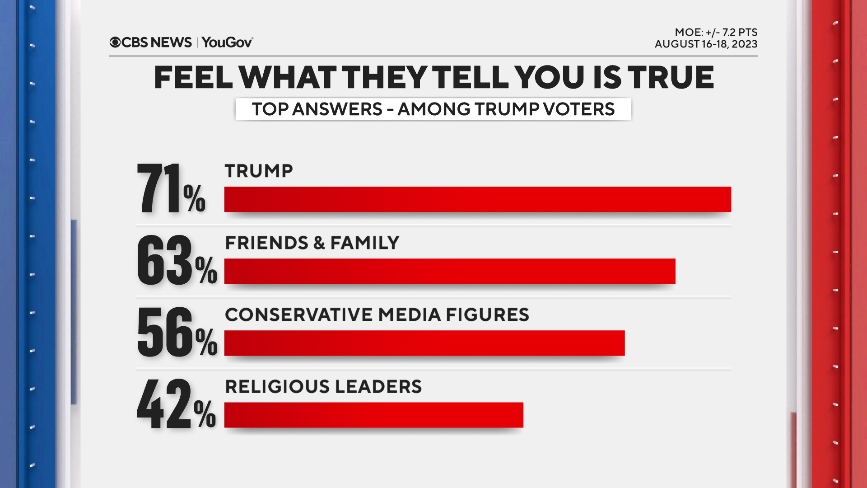 The grammar is awkward, but this is basically the percent of Trump voters who get a warm fuzzy certainty of truth when the source is talking.
At what point did Trump actually become a religious figure? Was it before the 2016 election?
I was planning on making the point that cult figures have standard characteristics, and droning on and on about the unfairness of elections ain't one of them, and isn't that peculiar? But then I looked up characteristics of cult leaders, and it's so Trump that it's not even funny.
This is also my way of commenting on the insignificance of the Republican debate.
Posted by Heebie-Geebie
on 08.23.23
Mossy Character writes: BBC (Google translated):
The 88.8% growth in the registered indigenous population is partly explained by a change in the IBGE methodology. In 2022, the Census found [traveled to and surveyed] more indigenous lands than in 2010 and started to ask one more question for people interviewed in certain locations.The identification of indigenous people in the Census usually happens when someone answers "indigenous" to the question "what is your color?". However, the IBGE noted that many people with indigenous ancestry answered that their color is "brown". Therefore, in 2022, census takers began to ask the question "do you consider yourself indigenous?" to the list of questions in places that are not officially indigenous lands, but where indigenous peoples are known to be present. [...] To understand this increase in detail, says Moreira, data on indigenous birth and death rates are needed -- which have not yet been released by the IBGE.
Reuters
,
AP
.
Heebie's take: That's interesting! The change in methodology is clearly the major new factor, but of course there's a whole political climate shift between Bolsonaro and Lula (which I possibly over-identify with Trump and not-Trump).
Tebet said the previous government of far-right President Jair Bolsonaro had curtailed census activity and dismantled agencies working in the interest of Indigenous people, while Lula had created a ministry dedicated to Indigenous affairs.
This quote is in a separate part of the linked article:
Minister of Indigenous Peoples Sonia Guajajara said more Indigenous people felt comfortable identifying themselves as such.
"Before they had to hide their identity for fear of being killed," Guajajara said at a news conference.
Is that saying historically, indigenous people were murdered, or is it saying specifically during Bolsonaro's regime, indigenous people were murdered for being indigenous? I know the destruction of the rainforest under Bolsonaro came with a lot of deadly consequences for indigenous people, but that's slightly different from feeling like it's unsafe to identify your identity for fear of being killed.
Posted by Heebie-Geebie
on 08.22.23
NickS writes: Not a euphemism. The story is both incredibly strange and a good description of how, "incredibly strange " is just an online marketing strategy.
Heebie's take: Y'know, you know you'll get old and the ways of the youth will seem unfamiliar and fraught, but I still wouldn't have expected unfamiliar and fraught to look like this.
1. Why would Gwyneth Paltrow, a multimillionaire entrepreneur, Academy Award-winning actress, and primo Hollywood nepo baby, be renting out her home on Airbnb? Well, Gwyneth thought you might ask that, so in her Instagram announcement, she basically makes it seem like she is just absolutely jonesing to entertain some guests, and I guess Oprah and Gayle were busy. But ultimately, the reason becomes much more obvious in the final 10 seconds of her announcement reel with a "Brian Chesky, CEO of Airbnb" jump scare: This woman is getting paid an outrageous amount of money to welcome strangers into her home and pretend like she's happy about it. Which brings us to ...
2. Why would Airbnb--a company frequently accused of being responsible for the housing crisis--choose this moment in time, when revenues are way down for its hosts, to "ask unexpected hosts to create unique shared experiences and connections"? Since Gwyneth Paltrow announced she would be renting out her guesthouse to solve loneliness, Ashton Kutcher and Mila Kunis have also announced they'll be renting out their oceanfront Santa Barbara beach house, by way of a video where Kutcher tells Kunis that he has an idea even dumber than his mustache: "I think we should have complete strangers come stay with us at the beach." Kunis, meanwhile, seems appropriately horrified by the idea of ... exercising the central concept of Airbnb ... as ... publicity for Airbnb. Why would Airbnb do this?! I'll mark it down as the first of many unanswered questions on my journey, and follow it up with a softball ...
3. Why would I want to rent Gwyneth Paltrow's Montecito Airbnb? Well, to quote Gwyn herself, in a cadence that cannot be described by the English language, I'm looking for that "I laughed, I cried a number of times, I sweat, I danced, I got a shot, I ate, and I had many epiphanies" kind of Saturday night. I am trying to get a mystery shot in the near vicinity of Gwyneth Paltrow's soaking tub. I am trying to hear the outrageous way Gwyneth Paltrow pronounces "chaise longue" in person. I am trying to meet the sassy, stone-faced version of Mrs. Gwyneth Kate Paltrow Falchuk that clad herself in chunky knits and claimed victory in one of the richest, whitest court cases Twitter has ever seen. And I am trying to do it with 2 centimeters of free Goop products soaking into my suddenly flawless skin! You get it; I know you do.
There are a lot of links in those pull quotes which I did not bother to embed individually.
Posted by Heebie-Geebie
on 08.21.23
I have a musing thought which is ultimately not new. I'm just repackaging what people mean when they say, "It's not about you", specifically in the context of one person losing their shit at another person who did not deserve it. We all already know that it's not really about the second person. It's about whatever the hell is going on in the first person's head.
A friend once shared this observation: "In a dream, everyone is you." As in, sure, your POV is locked into one set of eyes, but obviously all the other characters are still you. It's all generated by your brain and no one else's. If you're arguing with your dad in your dream, you are being both yourself and your dad.
My musing thought is to extend the idea that "in a dream, everyone is you" semi-literally to all these other situations where people are disconnected from each other. If you're losing your shit at another person who does not deserve it, you're unleashing it on the dream-version-of-them that's really in your head (and unfortunately an actual person is getting doused with your word-vomit).
Unrelatedly, I seem to be getting on Hawaii's case more than usual. I can't tell if she's provoking me more or if I'm instigating it.