Posted by Heebie-Geebie
on 06.24.23
Here, have a thread.
Posted by Heebie-Geebie
on 06.23.23
This is a little imprudent, as there are specific business names that are integral to the story. But I found this letter sorting through some stuff, and it would just be a pity for it to disappear forever. My grandmother passed away at age 100, in 2018, so she would have been 90 in 2008.
One extra detail is that along with sending the letter to Anthony, she sent a copy to everyone in her family, so that we may stay informed of the major issues she was dealing with.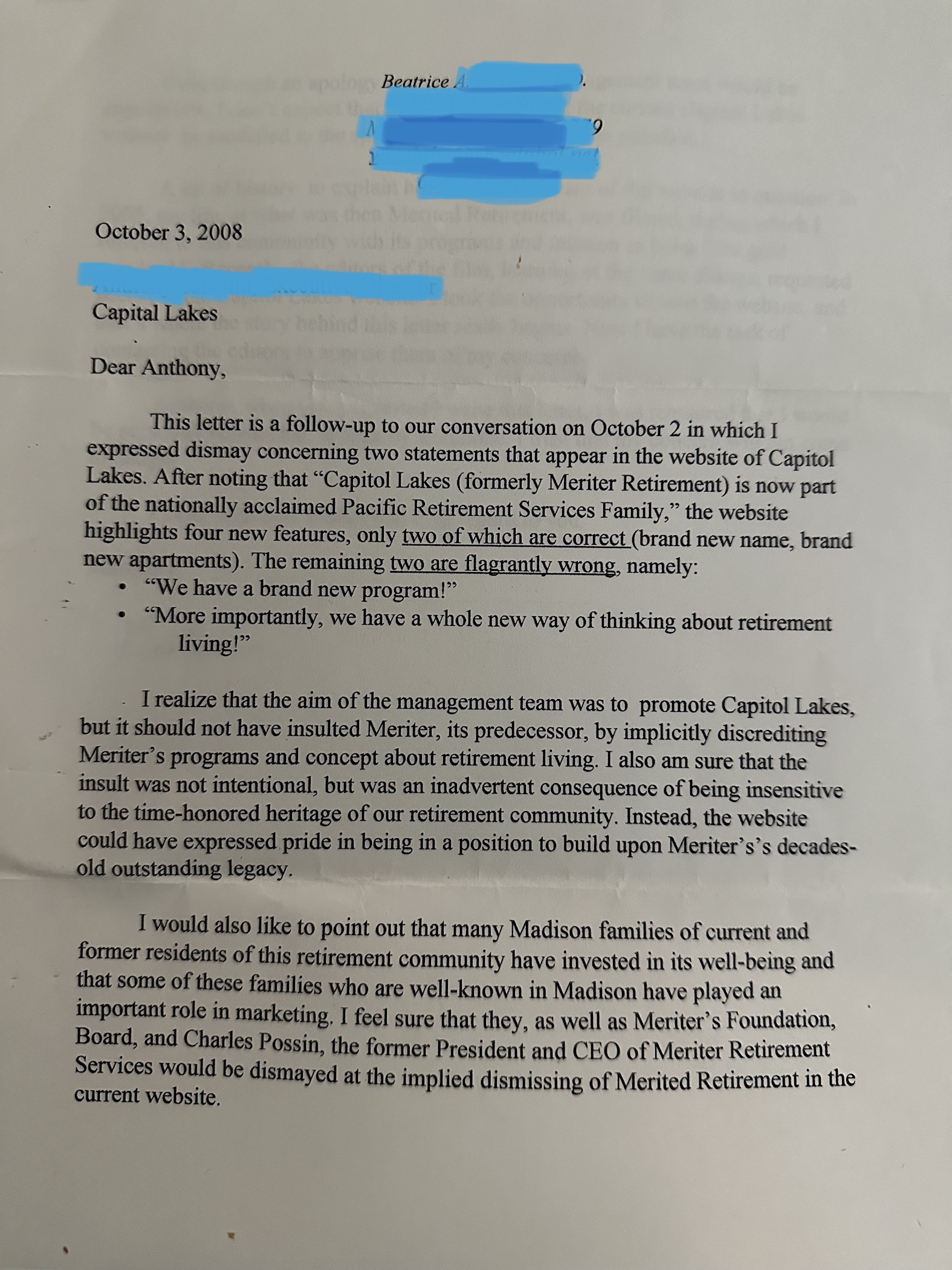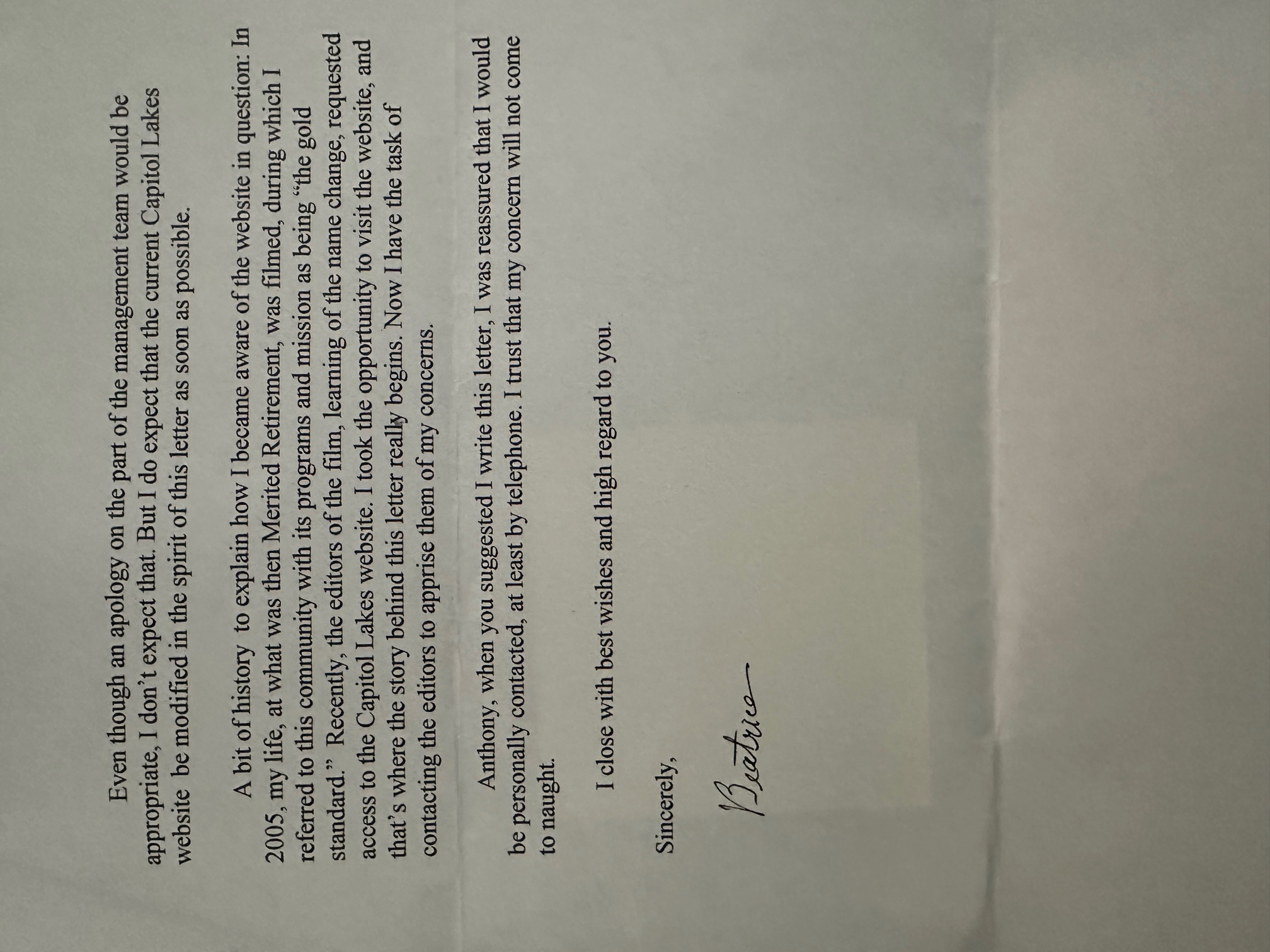 Posted by Heebie-Geebie
on 06.22.23
This article - Taliban Militants Fed Up With Office Culture, Ready to Quiet Quit - is absolutely hilarious. It's also from Time Magazine, and it's short, so maybe it's complete garbage. It reads as existential parody:
The former fighters found themselves missing the freedom of the front-lines as they adjusted to the mundane nature of office work. Huzaifa, a 24 year-old former sniper, said, "The Taliban used to be free of restrictions, but now we sit in one place, behind a desk and a computer 24 hours a day, seven days a week. Life's become so wearisome; you do the same things every day."
"In our ministry, there's little work for me to do," said Abdul Nafi, 25. "Therefore, I spend most of my time on Twitter. We're connected to speedy Wi-Fi and Internet. Many mujahedin, including me, are addicted to the Internet, especially Twitter."
And with a 9-to-5 comes the dreaded commute--and actually having to show up for the job in order to get paid. "What I don't like about Kabul is its ever-increasing traffic holdups." Omar Mansur, 32, said. "These days, you have to go to the office before 8 AM and stay there till 4 PM. If you don't go, you're considered absent, and [the wage for] that day is cut from your salary. We're now used to that, but it was especially difficult in the first two or three months."
It's completely plausible, because we all know that office culture does in fact suck! I just don't know if the article is preying on my predisposition to believe this sort of thing or not.
Posted by Heebie-Geebie
on 06.21.23
Mossy Character writes: Audience segmentation.
Heebie's take: Huh:
Egyptian authorities have accused the Dutch National Museum of Antiquities in Leiden of falsifying history in its exhibition on the influence of Ancient Egypt on the music of the African diaspora. The exhibition shows Black artists embodying Egypt's past rulers and is not based on the museum's own creations, but on album covers and other cultural artifacts previously created by artists such as Beyoncé and Rihanna, who were inspired by Queen Nefertiti for several of their creations. Also on display is a music video in which actor Eddie Murphy portrays Pharaoh Ramses II, and a sculpture of rapper Nas as Tutankhamun. According to the Egyptian Antiquities Service, it is an Afrocentric approach and a case of cultural appropriation. As a result, it has banned the museum from further excavation at the Saqqara necropolis near Cairo.
The exhibition is called "Kemet, Egypt in hip-hop, jazz, soul & funk", so they're not making any claims about re-imagining the past so much as how it has influenced the present.
Curator Daniel Soliman has told Dutch media that the Egyptian reaction may be due to two reasons: "The repressed nationalism and the racism against Blacks in that country, and that Ancient Egypt is talked about without including contemporary Egyptians, especially in the West."
I mean, that last bit is fair. [hums opening bars of that Bangles ditty]
The director of the National Museum of Antiquity is willing to talk to the Egyptian authorities, but only if they visit the exhibition first.
Posted by Heebie-Geebie
on 06.20.23
I feel like I'm generally late with the news, often because when I see something happen early, I'm really terrible at determining if it's interesting or not.
SO: Attempts to save five people in the missing submarine that was taking rich people down to explore the Titanic as a high-risk ritzy thrill-seeking adventure? Is this captivating or not?
Posted by Heebie-Geebie
on 06.20.23
E. Messily sends in this link: US mother gets call from 'kidnapped daughter' - but it's really an AI scam.
This story is wild:
Thinking the unknown number was a doctor's office, she answered the phone just before 5pm on the final ring. On the other end of the line was her 15-year-old daughter - or at least what sounded exactly like her daughter's voice.
"On the other end was our daughter Briana sobbing and crying saying 'Mom'."
Briana was on a ski trip when the incident took place so DeStefano assumed she injured herself and was calling let her know.
DeStefano heard the voice of her daughter and recreated the interaction for her audience: "'Mom, I messed up' with more crying and sobbing. Not thinking twice, I asked her again, 'OK, what happened?'"
She continued: "Suddenly a man's voice barked at her to 'lay down and put your head back'."
The kidnapper gets on the line and starts in on what he's going to do to the daughter. The mom happens to be at a dance studio with her other daughter, so she screams for help/police/etc. They get into ransom discussions and wait for the police to show up. Somehow someone else at the studio happens to have heard of this scam before. So the mom reaches out independently to Briana and her husband and finds out they're fine.
When DeStefano tried to file a police report after the ordeal, she was dismissed and told this was a "prank call".
A survey by McAfee, a computer security software company, found that 70% of people said they weren't confident they could tell the difference between a cloned voice and the real thing. McAfee also said it takes only three seconds of audio to replicate a person's voice.
That's insane! That's why I've enabled two-factor authentication on all my children.
I'm not surprised that the local police were clueless on how to handle it. I'd think you should report it to the FBI or something as cyber-extortion?
Posted by Heebie-Geebie
on 06.19.23
Minivet writes: Are people more or less moral as time goes on?
Nature: The illusion of moral decline, Mastroianni and Gilbert.
Together, our studies show that the perception of moral decline is pervasive, perdurable, unfounded, and easily produced.
Basically, you think people are worse because you remember the nice things people did for you long ago better than you remember the bad things. Validation for my longtime reflexive skepticism of Good Old Days talk.
So I'm not that surprised that, for example, the percent of people worldwide answering yes to the "Were you treated with respect all day yesterday?" has been more or less flat from 2006 to present, per Gallup. Although I am surprised that those responding yes are close to 90%!
(Same Mastroianni who wrote the blog post against peer review and the pointedly clearly written "Things Could Be Better" paper. According to his Twitter, the process of getting this into Nature partly informed the blog post.)
Heebie's take: I always feel like there's two kinds of morality:
1. How well do you treat people you interact with?
2. How well do you treat people you don't interact with? The second is like voting and caring about the well-being of people you're never going to meet.
I firmly believe that (1) hasn't changed over time. But (2) seems like a culturally-instilled quality that could rise or fall. (I'm pressed for time, so I haven't clicked through and actually read the link. So I don't know which one they're measuring.)
Posted by Ogged
on 06.18.23
Well, I thought, this is awesome. Then I wondered, have I been successfully targeted by a slick native-inflected k-pop marketing campaign? I mean...

But it looks like they've worked up to the winning formula. Go on, rock out.