Posted by Ogged
on 02.03.23
This summarizer is so good. I gave it something I thought would be deceptively difficult: a little morning show segment that has the newscaster intro, a taped segment, spliced concert video in the taped segment, and then a live interview, and it nailed it. What I would love is for a generated summary at the top of each news story. Most of us only read the headlines, so this would be more information, and also a better way to decide whether to read the whole thing.
Posted by Heebie-Geebie
on 02.03.23
Mossy Character sends in Boeing's 747, Original Jumbo Jet, Prepares for Final Send-Off and it occurs to me that we really haven't had much aircraft conversation here, aside from the occasional ekranoplan.
And I also saw this on Reddit: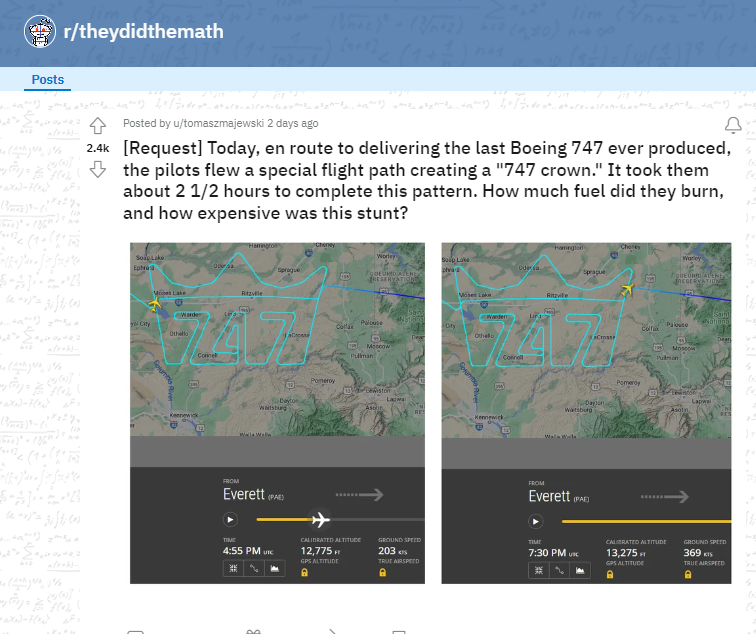 Awww. The current top answer estimates $18,200.
Posted by Heebie-Geebie
on 02.02.23
This Cop City thing in Atlanta is just nuts. They're going to destroy 85 acres of forest for a mega cop training center.
The proposal for Cop City, officially known as the Public Safety Training Center, was publicly announced in 2021, and started getting attention that summer, when legislation was formally introduced. The $90 million facility would serve as a training center for Atlanta police and firefighters; the proposal includes the construction of a mock city in the forest, hence the moniker Cop City. The proposed site is the Weelaunee Forest (also known as the Atlanta Forest, or the South River Forest, though we will be using the original Muscogee name, Weelaunee).
One protester was killed by police, but not much is known about the circumstances. It sounds like it's massively unpopular but sailed through the Atlanta city council.
They mentioned it on Vibe Check recently, which is the first I'd heard about it, and I want to parrot the point the host was making: this is a 2021 proposal, post-George Floyd. This is how the police departments is responding to the the BLM protests and events of the past few years.
Posted by Heebie-Geebie
on 02.01.23
Ile writes: As if there isn't enough depressing stuff to discuss.
Heebie's take: Literal Nazis!
Katja Lawrence, who is in her mid-30s, launched the channel in October 2021, because she "was having a rough time finding Nazi-approved school material for [her] homeschool children," as she told the neo-Nazi podcast "Achtung! Amerikaner" last year.
Later in the same podcast episode, Lawrence expanded on her view on why she wanted to educate her children at home. "We have our children's best interest at heart and nobody can do a better job than we can because it's our child. We are so deeply invested into making sure that that child becomes a wonderful Nazi," she said.
It surely must be performance art, but the article gives no indication of this. (I don't actually think that.)
Posted by Heebie-Geebie
on 01.31.23
I hadn't posted a Tyre Nichols thread yet because it's so damn depressing and incontrovertible, but it's starting to feel like an omission. This twitter thread takes it in the direction of police academies. The first tweet is, "I have been taught to yell "stop resisting" and "drop your weapon" after firing a gun, because bystanders will remember you said it and their memory will automatically reverse the order of the events to make it make sense. Their testimony will support yours, because of this."
If you want to feel even worse, have a look at Tyre Nichols' photography website.
Posted by Heebie-Geebie
on 01.30.23
The implementation of the dumb library law is depressing.
A few thoughts:
1. I absolutely refuse to do the lefty thing where you take the time to write a thoughtful response to why the rightwing policy is terrible and dumb.
2. We're all scared to say that someone's behavior is disqualifying for a presidential bid after Trump scorched so much ground - or at least I am - but I really think DeSantis does not have a prayer.
3. I bet some of you have some funny memories of insane Flowers-in-the-Attic style books from your school libraries. I'm searching my own memory and can't actually come up with anything particularly bad.
Posted by Heebie-Geebie
on 01.29.23
This is intended to be our system for checking in on imaginary friends, so that we know whether or not to be concerned if you go offline for a while. There is no way it could function as that sentence implies, but it's still nice to have a thread.
Episode Kobe fifty one