Posted by Heebie-Geebie
on 08.04.23
Out: Germany, Brazil, Canada
Still in: Jamaica, and 15 others.
I find it easier to watch soccer than most other team sports, but still moderately uninteresting. I would never put on sports if I were home alone. I would make an effort to go to someone's house to watch the final game, though.
Posted by Heebie-Geebie
on 08.03.23
Heebie's note: NickS's guest post and Mossy's link are on such compatible topics that I think they make for one well-coordinated post.
NickS writes: A friend comments, occasionally, that social change does not necessarily trend towards progress but that one clear example of improvement has been a dramatic shift in the acceptability of domestic violence that has happened in her lifetime.
In that spirit, I find this article about the history of forensic anthropology both deeply sad, while also offering the reminder that change does happen:
Digging up mass graves and attempting to identify bodies in order to expose large-scale violence is now such a common practice - as Hagerty writes, it's 'ethical common sense' - that it's surprising to remember how recently it was introduced. Forensic human rights work didn't exist before 1984. Founding a discipline is always more complex than just the story of a single charismatic man, but the big man story here is too good not to tell, and Hagerty tells it well....
In 1984, [Clyde] Snow, a chain-smoker in cowboy boots, was invited to Argentina by the truth commission set up by the newly elected president, Raúl Alfonsin, who had come to power after the fall of the dictatorship, and groups of human rights activists, including the Abuelas and Madres (grandmothers and mothers) of the Plaza de Mayo. These women led marches during the dictatorship wearing white headscarves - meant to evoke nappies - to demand the return of their disappeared children and grandchildren. The previous year, after the fall of the junta, judges had ordered the excavation of a municipal cemetery in Buenos Aires where some of the desaparecidos were believed to be buried. Officials made a mess of the site, crushing bones with heavy machinery and mixing human remains together into an unidentifiable mass. Local news organisations called it a 'horror show'. The Abuelas and others appealed for scientists to help to preserve the site and others like it, and to use new genetic research and forensic science techniques in the hope of finding the remains of the dead. They invited foreign experts, including Snow. He was appalled by the condition of the evidence at the cemetery: plastic bags with bones jumbled together; hundreds of exhumed bodies with no identification. 'They were losing evidence,' he said, 'which is as bad as being an accomplice to the crime.'
...
A medical student who was translating for Snow knew that local officials would never help him, and so recruited anthropology and archaeology students. They had no experience, and their only qualification was that they were unafraid to search for the disappeared, who had been about their age when they went missing. These students were the first members of what became the Equipo Argentino de Antropología Forense (EAAF), the Argentine Forensic Anthropology Team. When they arrived at the municipal cemetery, dozens of police turned up too. Snow instructed his interpreter to set up a perimeter around the grave and said that only his team would be allowed to dig. The police protested, but Snow flashed his coroners' association badge and secured the backing of a sympathetic judge. 'I always carry it around,' he later told a journalist, 'because whenever you get into a confrontation with the police, the guy with the biggest badge wins.'
Mossy Character sends in Aircraft Used For 'Death Flights' Returns To Argentina
Posted by Heebie-Geebie
on 08.02.23
A dedicated thread for the former prez who just can't stop, won't stop.
Posted by Heebie-Geebie
on 08.01.23
E. Messily sends in this article with the best headline, China zoo denies allegations that star attraction is a man in a sun bear costume, which includes this video:
共匪🇨🇳動物園

動物🐻都是假的

人穿黑熊套皮毛被大陸人發現

共匪邪教鍋什麼都能造假 pic.twitter.com/mOy6J51zIp

— 少俠 (@shaoxia33139500) July 30, 2023
Obviously part of what makes this hysterical is that you're forced to reckon with the plausibility that the Chinese government might try to pass off a dude in a bear costume, but apparently they do in fact do this kind of thing:
In 2019, Yancheng Wild Animal World in Changzhou, a city in eastern China's Jiangsu Province, sparked controversy after asking its workers to dress as gorillas, reported British newspaper Daily Mail....And in 2013, CNN reported that a zoo in Luohe, Henan, tried to pass off a large hairy dog as a lion.
I fully want to be on Team Human-in-a-Bear-Costume, but I concede that the longer video looks a little more bearlike. Included under the cut:
WATCH: 🐻 A viral video of a black sun bear at the Hangzhou Zoo in China's Zhejiang province has some netizens convinced that it is a human in disguise. The zoo has since spoken out to quell the rumours, maintaining that it is "definitely a real animal". pic.twitter.com/hzHOZSnLPT

— TODAY (@TODAYonline) July 31, 2023
PS: we debated whether a person could sit down like that. I said yes: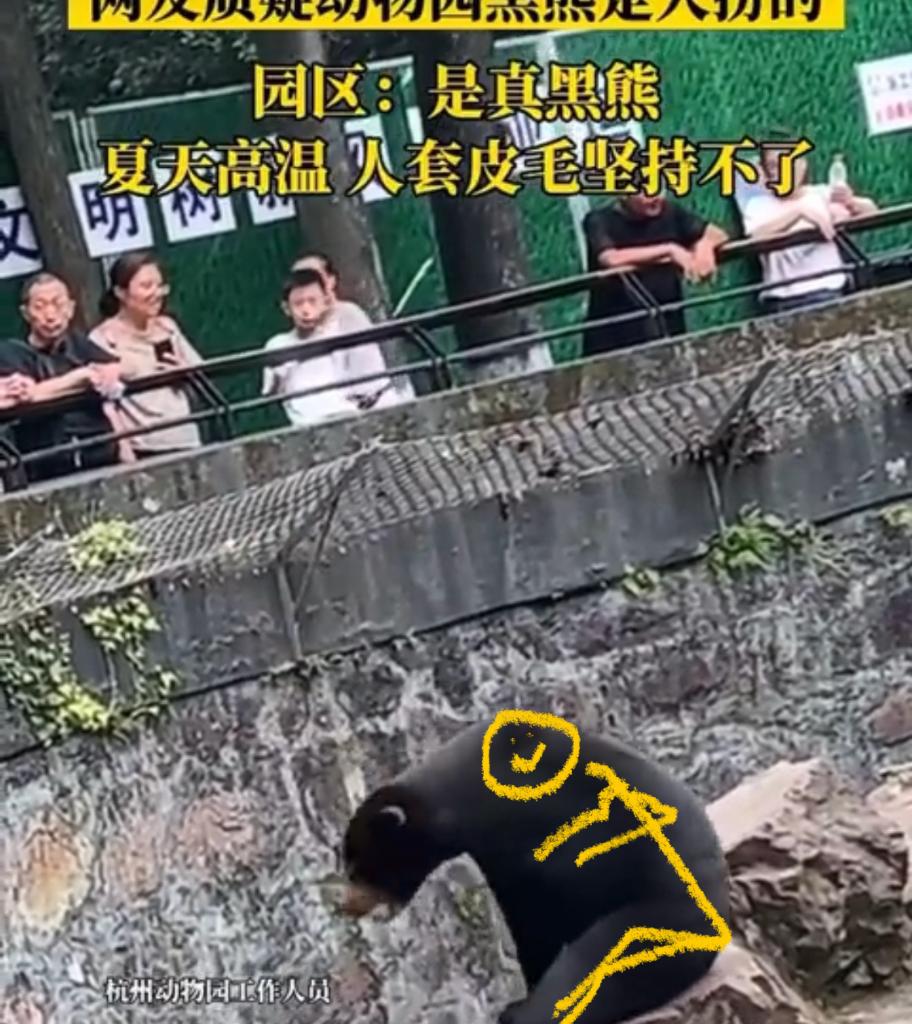 E. thought that that's incompatible with this posture: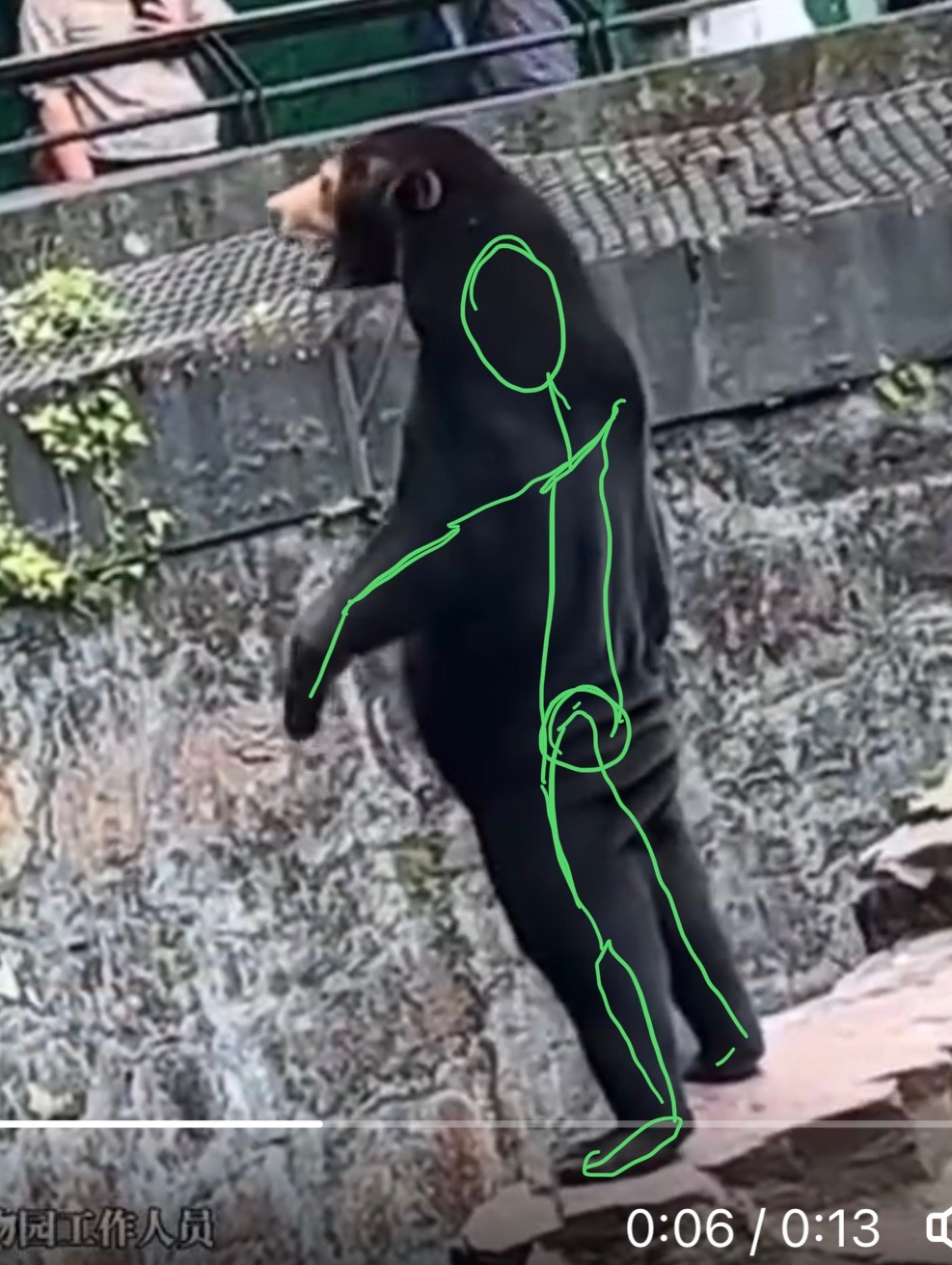 The debate rages on.

Posted by Heebie-Geebie
on 07.31.23
I don't think the community on Unfogged is particularly fear-mongering about TikTok, but I'm going to state up front that it's actually very wholesome. (Obviously it has dark corners, but don't we all.) When we get together with other families, the kids will spend hours making a video with the sole purpose to amuse and delight their friends and family. That is so wholesome!
The thing I think is interesting is that Hawaii et al are mostly riffing on or recreating entirely videos they've seen - learning a dance, splicing together a lip sync to a song, recreating a specific gag, whatever. It's reproduction as recreation. It is solidly in the world of craft, not art. It's folk art!
Obviously people are doing many things with TikTok - new, creative things that are art, things that are informational or funny. There are a lot of categories. I'm just saying that there hasn't really been a folk video medium on this scale until now, and it's wholesome.